If there is one thing we can be sure of in 2016's media industry, it's that there will be no shortage of content. We are still crafting, entertaining and sharing content about the big events of 2015, all of which will have sequels, come-backs and post-mortems this year. Since content is the product of every media brand, there is no excuse when it comes to adding value to the media consumer. How we add value is about treating our audience as a community.
Insight 1 – Bigger isn't better
In the wake of the big dispute around RAMS in the radio industry, I have to question why we still set so much store by the size of our audiences. This isn't the consumer industry where there is a direct relationship between the volume of product sales and revenue. This is laid bare when we look at the list of top radio station earners versus their audience sizes below. Highveld 947 is the top earner in the radio industry with 1.4 million listeners according to RAMS while Ukhozi FM doesn't even feature in the top five earners and yet boasts one of the biggest listening audiences in the world at over 7.4 million listeners. This means that there is another factor, or numerous other factors, at play when planning media spend. Size doesn't seem to count much at all actually.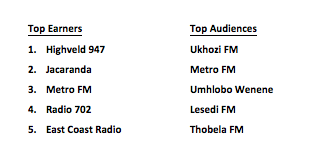 Further to this, WHO we are counting and HOW we are counting people is just not a true reflection of the station's brand fans and followers. Let me use my own station to avoid adding cats to the already flapping pigeons. In the last RAMS diary 5FM showed growth of 39 000 listeners with improvements in most demographic boxes. This puts the station at just over 1.7 million listeners. But when I look at how big 5FM's social media communities are (biggest Twitter following as a brand in South Africa) and add them all together (yes I know there would be duplicates but humour me in the absence of advanced CRM software that could 'count' individual users accurately across platforms), 5FM has an online community of over 1.2 million people (earned media only).
Surely at least the majority of the social media followers of 5FM have a listening relationship with aspects of on-air content? It is the heart of the live interplay of the brand and the engine of its content output. We only have approximately 12 million South Africans with active social media accounts. So I am convinced that RAMS is not quite showing us true reflections of the size of our audiences.
But why is it that we still think that size matters? 'How many people' is a far less relevant metric than the type of person listening. In 5FM's case we are interested in technologically savvy people who have music at the centre of their being. We are interested in people that can laugh at themselves, who act on big ideas, who take risks, who embrace diversity, who believe they build their own futures and who want to be part of a community of people who live loud. For the classical marketers this is the difference between segmenting audiences along demographic or geographic lines and segmenting them along psychographic or behavioural lines. Bigger (even if the figures are accurate) is just not better. If anything this is what our top earning radio stations have shown us.
And maybe in 2016 we will win the methodology fight on how we are measuring audiences to begin with.
Insight 2 – It's not enough to be, you need to do
Justin Lefkovich talks about the "gold mine emerging in the realm of live events and experiential marketing". Of course we know that anyone with a budget can throw a party, but since the 2010 World Cup South Africans have been exposed to a number of high profile events and international music and entertainment acts. So our taste for events, what we are willing to pay, what we believe to be great experiences and the level of logistics and organisation we expect around these events has become sophisticated. This means that if you are going to take your brand to the market, then you need to be sure that you are living your brand in practice, on the ground.
This is where the proverbial 'rubber hits the road'. You can tell people anything you want. You can promise them all sorts of things that you convince them you can deliver on, but if you step down off your brand pedestal and don't SHOW HOW you are fulfilling your promises to them, then they will write you off without a second thought. In a competitive industry and in an increasingly time-poor life, there are lots of other options out there.
So every event, every activation, every moment of engagement you have with your market, needs to be a true implementation of the promises you have been propagating. I agree with Lefkovich, events are an incredibly powerful and potentially lucrative extension and embodiment of everything a brand stands for, but they can be very risky if you can't ensure that an event is your brand brought to life in its truthful entirety.
Insight 3 – Digital media is not a thing, it's everything
Businesses and the people who manage them need to stop thinking of digital media as another column in the budget or a separate tool to the other big three (TV, radio and print) that we neatly label 'above-the-line'. Digital is everything. It is the blood in our veins. We are completely reliant on digital technology for a million big and small things that take place every day. It isn't a place to advertise; it's a universe that everyone is living in. It isn't a marketing tool; it's a community of multifarious personalities and ideas. It isn't a stand-alone, quantifiable concept; it's the place where everything happens, where everyone meets and shares and where anything is possible and everything can go wrong (#pennysparrow).
Rule one is 'respect the web'. Then embrace it, invest in it, make it a fundamental part of all aspects of your business and each moment of your market engagement. If you are digitally phobic, then take the 'embrace your enemy' approach. If you are digitally native then remember that the world online is not a copy of the world in reality. Be discerning about the difference and don't promise or commit to anything online that you can't deliver yourself in reality.
Justine Cullinan (@shoeshanista) is station manager for 5FM (@5FM)