Cholera, an acute diarrheal disease that can kill within hours if left untreated. Currently, the death toll is over 20 of our kin and another 170 are infected.
This is the situation at #Hammanskraal. Who turned up in minutes to help the affected? #GiftOfTheGivers. They piled in with bottled water and treatments. They didn't point a finger at either the DA or the ANC, they didn't even care that #EdwinSodi is at the heart of this horror.
They didn't demand #CilliersBrink drink a glass of water like the EFF did. They didn't go on teevee and tell the world how it was the DA's fault or that it was a historical ANC problem. They just arrived with one intention: to help. That's the good news as you #ScratchTheSurface today with me, Tonya Khoury, your host through this magic show called South African media.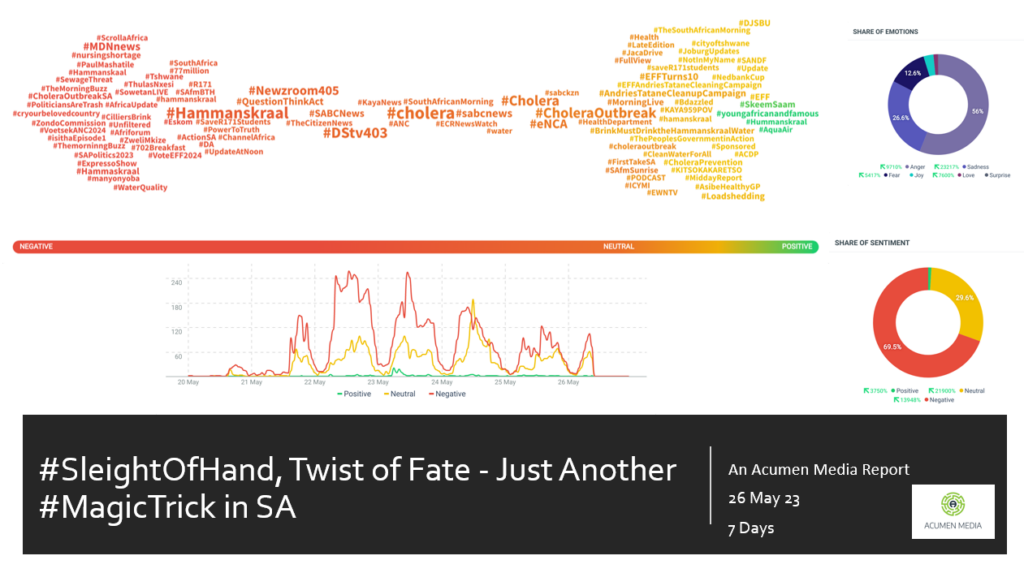 If you pay attention to politicians you'll learn that #SollyMsimang (DA) was in charge of the water plant and his administration was given R300-million rand to fix the pending doom. We were also told that the SAHRC would monitor the situation closely, and this was when the tenders were raffled out to one lucky winner, #EdwinSodi. Edwin, you may or may not remember, was involved in the #ACEbestos case. Want to know how he got the tender? There were three companies in the final pitch, each and every one of them belonged to him.
Edwin has a checkered past: during the #ACEBestos case, all his cars were repossessed, his wife's share alone was worth 20 million. Porches poured out of his residences faster than we could wise up about a man who creates joint ventures with himself. And here he is again, tendering to our water supply that could kill hundreds, maybe even thousands of people. This story dates back to 2013, so to be fair, both the ANC and the DA are to blame. But unlike Gift of the Givers, nothing got done, just an orchestra of finger pointing.
Then as if that was not bad enough, the rollercoaster took a turn for the worst; AfriForum said the Vaal Dam is at risk and as more areas are tested, it is clear the water is not drinkable. After taking samples in Parys, they found  that the water is filled with Ecoli, and other water samples show pure sewage. If I remember correctly, and it's been a long time since I was in Joburg, but the Vaal dam basically is Gauteng's water supply.
I'm saying this for the nation: we don't care whose fault it is, fix it. Fix it today! Have you no shame? Playing political monopoly with the only natural resource that keeps us alive. #FourthWorldCountry
We are not a third world country; I have lived in East Africa, in several countries there, and they have no water infrastructure and no electricity grid to speak of. Yet they do have, without a problem, clean water in tanks, electricity generators and high-speed internet.
Yes, you have to take a cholera vaccine to go there. Well to be fair, you need to take a myriad of vaccines like Hepatitis A and B, Meningitis, Rabies, Typhoid, Yellow Fever and a bucket of Malaria pills.
And yes, the governments are bought by other countries and are dependent on aid from the same countries who pile the debt on, but you can work, you can drink, you can eat, you can turn on the lights and surf the net. We wish we were a third world country.
Another magic trick
Want to see another magic trick? How do we get away from conversations like #Hammanskraal, Eskom and Karpowerships? We use sleight of hand and deliver a rabbit from a hat called #ThaboBester. I'm going to call it; this story is made up. This is rubbish and not worth your attention. Apparently, this week the whole country learnt how Thabo finally got a life, no, not a life sentence, he got an ID.
Remember that advert, 'Get a Life, Get an ID', well it should be 'Get life, Got an ID'. But it's not. It's all an illusion you see, we were told that the person in the Burberry is Thabo because we found his DNA at Baragwanath Hospital.
The DNA is from the day he was born? Oh please, give me a break, we can all see the false bottom in your Houdini escape show. DNA at birth? What rubbish. #MagicTricks. Then #DrNandi told us she was kidnapped from Tanzania, not arrested. So, they put a bag over her head and chucked her on a jet? What part of this are we buying, South Africa? Tell me.
I'm interested because the more I watch the more I think, if this was a true magic show, I'd start throwing tomatoes. Just as I was ready to exit the audience the plot thickened as a new person entered the fray, #PatriciaMashale. This chick says #Cele is heavily involved in this circus and that he offered a whole bouquet of bribes to the escape team; she fears for her life and that is why she's going public with her information. #SleightOfHand. Show the government that we won't be played, and turn off this rubbish.
Repo up, rand down
The #RepoRate went up and the #Rand plummeted, so we are at an all time low against the dollar. What have we done as a nation to fix this? Well, we did do something. Are you ready? Abracadabra … We changed Wikipedia content by renaming Eskom to '#MegaGravyTrainPark' and Luthuli House to "Lootfreely House". How much do you want to bet that the DA did that? Go on, I'll take your money. #HocusPocus.
Then #ThaboMbeki dropped files in Guinea during his #AfricaDay address. When questioned by the journalist about our electricity crisis, he said that it doesn't take 19 years to build a power plant, that we should understand that someone doesn't want the power plant to be built. This is deliberate. He also said we cannot and will not arrest #Putin.
He also laughed off thoughts about our fourth world country arming Mother Russia. It's the first time I really thought about #LadyRa and the allegations that we sold a load of weapons to Russia. We can't keep a glass of water clean, and #Denel was dead about 10 years ago, they still haven't paid salaries. I'm not sure what was on that ship … perhaps it was our coal. That would make more sense. We are really good at exporting coal. #TopTrick.
Steeped in satire
Have to speed up now, and I am acutely aware that I've not been steeped in satire again in this weekly report. So, let's try and cheer you up. Pick a card, any card. #DeRuyter, ace of spades, he was fun this week. He was told in no uncertain terms that he must name the minister and senior politician he blathered about at the eNCA interview. Ja ne! Your invisible cloak is about to become threadbare.
As we are focused on our lack of electricity, you may have missed it, but #Karpowerships have lined up across our coastline. Can you see the trick? That was what Phusa Face #GwedeMantashe wanted all along. Then there was the unauthorised #BuyOgraphy of Herman #HighHorse Mashaba. Oh, that did make me laugh, especially as I watched the author, Prince Mashele, spin in circles with Clement Manyatele playing the magician and asking uncomfortable questions.
Short story, Mashaba paid Mashele over R12 million to write this "unauthorised" very authorised biography. Jonathan Ball, the publishers, pulled the book after they found out the author had been paid to write exactly what Mashaba wanted us to read. Still think he's a hero? I told you this guy just looks down on us as if we are a dumb audience who can't see the casino up his sleeve.
Run out of words
There were other stories, but I've run out of words. Still no justice for the victims of #LifeEsidimeni, R77m in legal fees and not a single arrest. #KathradaFoundation put #JumpingJohn Steenhuisen in his place when he tried to lay claim to #UncleKathy's thoughts. The foundation basically said, #HandsOffUncleKathy.
They did better than that, they are having a meeting tomorrow and you are all invited on a plot to Save South Africa. Then there was a tender for #Xboxes, I kid you not. #NSFAS Students protest over funding issues. #MadamMkhwebane found legal counsel, they'll probably argue that they don't know what the hell is going on and we'll be here until her tenure finishes in November. This magician is so transparent.
Across the seas, #Elon kissed a robot or played with AI tools. He is a tool isn't he? #TikTok was banned in Montana and the Queen of Rock n Roll passed on after a long battle with cancer. #TinaTurner, thank you for the playlist of belter tunes you gave us, the entertainment that was breathtaking on stage and your wise words of wisdom through, a more often than not, difficult life.
Let's end with this from the Queen herself: "At every moment we always have a choice, even if it feels as if we don't, sometimes that choice may simply be to think a more positive thought."
I'm Tonya Khoury and thank you for joining the greatest show on earth, well, you know what I mean.
---