The Media Online's weekly round up of people, account and business moves in media.
This week's BIG move: Wavemaker introduces Digital Solutions pillar to revolutionise digital marketing intelligence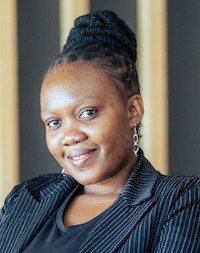 Wavemaker has announced the establishment of its Digital Solutions pillar within the data and analytics department. It will serve as the preferred source for analytics and digital data, offering innovative services to empower brands and drive growth in the ever-evolving digital landscape.
The Digital Solutions pillar analyses and creates digital insights across various specialist areas such as social media, search and e-commerce. It provides a wide range of services, including social listening services, website and app performance analysis, digital PR reporting, social media influencer marketing, gaming, and digital research intelligence. By leveraging technology and a team of imaginative and inquisitive millennials, this pillar is set for success.
"At Wavemaker, we believe in the power of digital platforms to communicate ideas and influence consumer behaviour," said Kholofelo Makgopa, pillar lead of Digital Solutions. "Our team is passionate about exploring the limitless possibilities that these platforms offer and identifying new opportunities for our clients to drive growth and navigate the digital landscape."
People moves
Development board brings youthful input to the MMA SA
The MMA SA has established a development board in order to drive the growth and empowerment of younger leaders in the digital marketing space.
It signifies the MMA SA's commitment to nurturing emerging marketing talent and providing them with a platform to excel in a dynamic industry. This is a country specific project, with South Africa the first member country of the MMA to create a youth-specific board.
Vincent Maher, chairperson of the MMA SA, said the board will serve as a catalyst for innovation, collaboration and progress within the industry. "By investing in the next generation of marketing professionals, we can ensure a vibrant and prosperous future for this important sector in South Africa. Through a platform that allows emerging talent to shine, the MMA believes we can collectively shape the future of marketing in South Africa," he said.
Each member was nominated by a current member of the MMA SA Board, with 17 members currently serving. Development Board members are 35-years and younger, with typical experience of 5-7 years in their industry.
Business moves
Mediamark Digital officially appointed exclusive South African partner for Warner Music Experience
Mediamark Digital has been announced as the exclusive partner for Warner Music Experience (WMX) in South Africa, further underpinning the sales house's pedigree in digital. WMX provides advertisers access to the biggest international and South African music artists via commercial targeting, sponsorship and content opportunities.
"Working with Mediamark Digital these past few months has been fantastic and we're excited to make our partnership official as we continue to grow our business in South Africa," said Fran Hale VP of sales, EMEA at WMX.
Mark Botha, head of digital at Mediamark said the Warner Music Experience offers a huge innovative commercial opportunity as it has massive global appeal. "Advertising with WMX connects advertisers to highly sought after, cutting edge official content, in a premium, brand safe environment," he said.
"Leveraging WMX Connects, a premier data storefront for brands, we are able to align brands with artists based on audience affinity, thereby creating highly targeted opportunities, as well as bespoke content for advertisers wanting fresh brand opportunities."
Advertisers tuned in to Algoa FM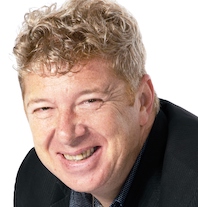 Advertisers wanting to connect with viable customers in the Eastern Cape and Garden Route are choosing Algoa FM as their preferred media choice in the broadcast footprint.
"Algoa FM produced excellent results for the year ended 31 March 2023," said AME Ltd. Group CEO Dave Tiltmann, in a statement on the results.
"Collectively, national and direct sales contributed to Net Radio Revenue ending 12% above budget, which together with tight financial controls, resulted in EBITDA last experienced pre-Covid.
"This performance was achieved despite a magnitude of conditions such as the severe water crisis, failing municipal infrastructure, disruptive power outages, and rising inflation, which was further exacerbated by the State of Disaster, which was only lifted during April of 2022.
"During the period under review, audiences have grown, online engagement is on an upward trajectory, and cash flow remains positive," he wrote.
Algoa FM managing director Alfie Jay, said: "The Broadcasting Research Council of South Africa (BRC), reports that our audience grew by close-on 10% in the year under review, from 397 000 to 436 000 past seven-day listeners.
"BRC data also reveals that Algoa FM is in a class of its own in the country, enjoying the highest percentage of loyal listeners compared with the five other regional, commercial radio stations which target listeners living an adult contemporary lifestyle."
RAPT Creative launches influencer campaign for Sol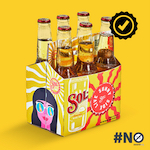 Citizen-of-the-world beer brand Sol has opted to speak up against the most challenging dilemma facing South Africa's youth state of mind – this in a bid to break through the advertising clutter that characterises the beer category.
By creating a message that urges South Africans to, despite their challenges, live life with a 'Live from the Sunnyside' state of mind, Sol says this is a state of mind that is democratic, attainable and within reach.
To bring this concept to life, Sol and its partner agency, RAPT Creative, are using digital tactics to interact with consumers and engage them in exercises that bring light to their lives, just like crossword puzzles encourage audiences to find positive words amidst the negative discourse.
The agency's PR & Influencer arm amplified the energy and positivity generated in its 2022 mostly above-the-line campaign, 'Taste the Sun with Sol', using digital media and influencers to introduce Sol's 'Live from the Sunnyside'.
The Bar Africa' GOtv campaign for Multichoice Kenya is rooted in culture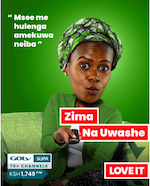 MultiChoice's GOtv campaign in Kenya is rooted in the culture where its customers live.  The Bar Africa' answer to the Kenya GOtv brief was related to how much stress, worries and pressure in the daily lives of Kenya' could get and that good entertainment is a great escape from that reality.
The creative was to position GOtv as the antidote to all the curveballs life throws at us. To say that you can switch off all else when you switch on GOtv.
Marls Truter, co-founder and managing director said, "Our Kenyan consumer is multi-layered, and communication is perceived as annoying when it's not culturally relevant or aligned to the traditional values or conservatism of Kenyans. We were very excited to be part of GOtv's strategy to segment and understand the Kenyan audience on a much deeper level and thus ultimately deliver a campaign that allows the brand to really connect with their Kenyan consumers."
HOT 102.7FM launches new app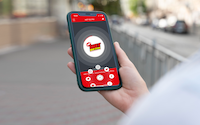 In response to customer demand and an ever-evolving audio landscape, HOT 102.7FM has launched a new app, giving the Johannesburg-based radio station the perfect platform on which to further engage its loyal and growing listenership.
"A by-product of a loyal audience is the need to constantly interrogate and engage it on its changing needs, and the desire to have HOT 102.7FM at one's fingertips and in the palms of the hands of our listenership was one of the take-outs of our continuous market research," said Lloyd Madurai, managing director of HOT 102.7FM.
As a result, HOT 102.7FM has invested heavily in a high-end app solution, with particular attention paid to ensuring a rich sound quality that mirrors the high-quality FM experience the station's audience already enjoys, along with a host of fun and funky features that fit strategically with the HOT 102.7FM brand.
Making moves
Discover the Power of TikTok to Unlock New Markets with TK.Lab

Ogilvy launched TK.Lab, a centralised, end-to-end specialist offering that helps brands deliver impact and reach new audiences on TikTok. This groundbreaking initiative marks a pioneering effort in harnessing scientific insights and data to propel brand growth.
With an exponential surge in South Africa's TikTok user base, reaching an impressive 11.83 million active users aged 18 and older, brands have come to recognise the urgent need to establish cultural resonance and fuel innovation within their operations.
Ogilvy, in partnership with TikTok South Africa, is hosting an event that will give delegates the chance to dive deep into the potential of TikTok for brand building, user acquisition, and fostering meaningful connections with target audiences in authentic and innovative ways.
Event details:
Who: CMOs, brand marketers, journalists, podcasters, bloggers, and social media leaders
Where: Ogilvy JHB, 15 Sloane Street, Bryanston
When: Thursday, 22 June 2023
Time: 15h00
To secure your seat, RSVP here.
Netflix co-founder Reed Hastings joins African Leadership University students for business masterclass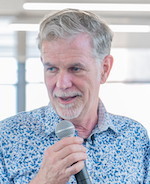 Netflix co-Founder and Chairman Reed Hastings this month joined African Leadership University students for a series of talks, a unique opportunity for them to gain personalised advice on realising their entrepreneurial aspirations.
They were able to quiz Hastings on his experiences turning the idea for Netflix into an almost $200 billion global company that has revolutionised the entertainment industry. This was part of a special visit organised by ALU, during which students learned from a range of US business and non-profit leaders across a series of masterclasses and talks.
"ALU's students are a testament to Africa's great potential: they are dynamic, ambitious, and inventive," said Hastings. "They are an incredibly diverse, creative group from across the continent, who all share one crucial thing: a hunger to enact positive change. It was a joy to share my experiences with them and some of what I have learned throughout my career – and I know I learned a lot from the students, too. I certainly look forward to seeing what these talented changemakers do next."
Making magic at the Nedbank IMC with Luca Gallarelli
It's time to get upclose&personal at this year's Nedbank Integrated Marketing Council (IMC) conference and learn to live on the right side of chaos! Luca Gallarelli, Group CEO of TBWA\South Africa, will be one of the engaging thought leaders taking to the stage on 15 September. He will talk to delegates about the art of effective integration that delivers magic. Get ready to be inspired!
TBWA\South Africa is a multi-disciplinary and award-winning collective that includes TBWA\Hunt\Lascaris, GRID Worldwide, Yellowwood, Magna Carta, and Sting Content. Co-leading this powerful engine room of creativity is no happy coincidence.
To get up close and personal to Luca's brand of magic, you'll have to hurry. Tickets for the one-day Nedbank IMC – which will take place in person at Urban Brew Studios in Johannesburg on the 15 September 2023 – are almost sold out. The good news is that an online option will also be available.
Emerging content creator workshop a huge success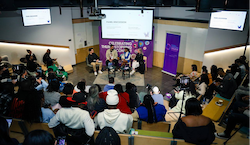 The emerging content creator Workshop, hosted by the DStv Content Creator Awards, saw a remarkable turnout. The event showcased the eagerness and enthusiasm of up-and-coming content creators to network, learn, and engage in meaningful discussions.
The the workshop aimed to empower creators through knowledge sharing and provide valuable insights into the world of content creation. The participants had the opportunity to listen to industry experts, who shared their experiences and expertise, leaving the emerging content creators hungry for more information.
The workshop was not confined to the physical space alone, as it was also live-streamed on TikTok, ensuring that a wider audience could benefit from the valuable content and discussions that took place throughout the day.
Africa's vast potential in focus at second Annual African Marketing Confederation conference
 The second annual African Marketing Confederation (AMC) Conference will be held under the theme 'Africa's $3.4 trillion Economy: Opportunities for Marketers', the organisers have announced. 
Marketing specialists and practitioners across the continent are urged to attend, including chief marketing officers and vice presidents of marketing; marketing directors, analysts, coordinators, managers and consultants; marketing and promotions managers, digital marketing and data specialists.
The AMC Conference takes place from 6 to 9 September 2023 at Imperial Botanical Beach Hotel in Entebbe, Uganda. This year, it is hosted by the Uganda Marketers Society (UMS), the leading organisation for marketing professionals in Uganda.
African Marketing Confederation president Helen Mclntee said the AMC's annual conference is fast establishing itself as the "must attend" event for marketing professionals in Africa.
To register for the event or find out more about the 2023 AMC Conference, including sponsorship and partnership opportunities, visit https://africaproconference.com/
HOT 102.7FM powers Groves & Vineyards to 84% attendance Increase
The organisers of the Groves & Vineyards Festival are celebrating a triumphant 2023 staging of the annual event, after partnering with Johannesburg-based radio station HOT 102.7FM and tapping into the power of the 'HOT' brand.
The station played a pivotal role in increasing awareness of the event and driving ticket sales, cementing its position as a media partner of choice. Notably, by leveraging the popularity of the HOT 102.7FM brand and capitalising on its vast audience of active listeners, Groves & Vineyards witnessed a staggering 84% surge in its attendance, marking a significant leap from the previous year's figures.