When HOT FM moved to FM, StarFM took over its well known 91.9 frequency … on the same day. Now, just over two years after the 1 July launch, the community music radio station has rebranded as 919.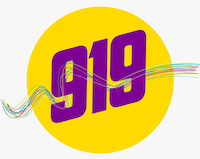 "Everyone at the station is so excited about the new branding. There's a whole new energy," says Caren du Preez, who has been station manager since the mics were first switched on.
The move, the station announced in a press release, is designed to "distinguish the station from other radio stations with a similar name, as well as position 919 as the centre of a future media ecosystem including streaming, podcasts, activations and training".
Gauteng Media Development Agency holds the licence, and appointed a new board in late 2022. In July 2023, the decision was taken to rebrand after consulting with United Stations, acknowledged experts in the media sales space.
Initially positioned as a youth-focused station, the station formerly known as Star919FM pivoted from a target audience defined by demographics to one focused on psychographics when the new board took over.
919 targets listeners who are looking for music that uplifts their mood, regardless of genre or language. If you're in the station's catchment area, and you're looking for an audio serotonin boost, then 919 is for you. The station broadcasts 70% local music along with international favourites, and the idea is that listeners will find something both familiar and new every day.
Feeling good all the time
The tagline changed to "Feel good! Anytime! All the time!" and this has been retained in the new brand. Over time, the plan will be to imbue the brand name '919' with enough meaning that it becomes a synonym for feeling good in its own right.
Presenters include both established names like Nicole da Silva, Shane Hunter and Linda Mbuso as well as newer voices. Future plans for 919 include the 919 Academy, modelled on the game-changing Y Academy which produced so much new radio talent between 2008 and 2017. Once the station is able to generate enough sustainable revenue, the plan is to recruit the first trainees.
"We're looking for brand partners that want to catalyse positive action in our listener communities," says Du Preez. "We've been building great relationships with brands like Burger King, as well as contributing to our listener communities through outside broadcasts at schools and businesses. We're very ambitious – we want 919 to be the most admired radio brand in South Africa, and we're very excited about this new journey for our station and our team."
To find out more about how to work with 919, the little radio station with big ideas, go to https://919.co.za/  or find us on LinkedIn at https://www.linkedin.com/company/919-fm/
---