Zenith signs landmark deal with BBC Global News. Zimbabwean born Miriro Matema appointed managing editor at Nomad Africa Magazine. Heineken appoints corporate affairs director. Moving Tactics launches digital signage rental finance division. Global Out Of Home Media secures rights In Yaoundè, Cameroon. Global business directory, Hotfrog appoints South African licensee. De sa Garces and Gardner launch ADSG creative partnership. The ARB is open for complaints. Good Hope FM is the official radio partner of Paarl Rocks & Cape Town Blitz for the 2018 Mzansi Super League.  IMImobile SA joins Google's Early Access Programme for RCS Business Messaging in Africa. Local digital signature company cements international alliance
This week's BIG move: Zenith signs landmark deal with BBC Global News
In a deal that captures the entrepreneurial spirit of Africa, Zenith Bank has signed up as sponsor of the BBC's Talking Business Africa, catapulting the brand into millions of homes across the world via BBC World News and BBC.com.
Talking Business Africa is one of BBC World News' weekly flagship programmes, presented by Africa-based and award-winning journalist, Lerato Mbele-Roberts, and is changing the African narrative by showcasing the continent's thriving marketplace.
The multi-platform series brings global audiences insights into the entrepreneurs and business leaders shaping Africa's economic fortunes, meeting and profiling the people who've created jobs, not just for themselves, but for others too
Speaking at a special event at Zenith Bank's headquarters in Lagos to mark this landmark deal, Jim Ovia, Chairman and CEO of Zenith Bank said: "Having built a successful brand like Zenith Bank based on trust and innovation, it was important for us to partner with a media organisation that reflected our values, which is why we've chosen the BBC, amongst others. By sponsoring Talking Business Africa, we hope to inspire Africans into business and encourage people across the world to do business with us. "
Charlie Villar, chief operating officer of BBC Global News said: "Africa's growth surge can be accredited to its many entrepreneurs and business leaders all over the continent. We're delighted to partner with Zenith Bank to change the African narrative by continuing to showcase the continent's successful and high-profile personalities to global audiences."
People moves
Zimbabwean born Miriro Matema appointed managing editor at Nomad Africa Magazine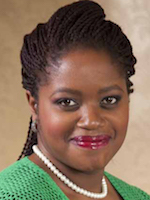 Zimbabwean media professional Miriro Matema, is the new managing editor of 2414 Publishing (Pty) Limited's flagship magazine, Nomad Africa. Matema replaces Monique Ashley Le-Coure, who left Nomad Africa after nearly six years.
Under Matema's leadership, Nomad Africa aims to reemerge as the must-read for a new generation of travel industry leaders, decision makers and travel savvy gurus. With insightful coverage of travel, tourism, hospitality and culture, Matema's Nomad Africa aims to publish award-winning content that will become a market leader while igniting the conversation and collaboration of Africa's collective tourism industry.
Before joining Nomad Africa, Matema worked as a freelance editor for publications such as Executive Assistant magazine, Africa Investor and Life25. She also led the content marketing efforts at Azureceleste.
"I am excited to join such a wonderful team at Nomad Africa," Matema said. "Their literary style has shaped the travel industry in Africa to be one of intellectual showmanship, visual punch and extraordinary writing. I look forward to approach this new season with the same spirit of excellence and ambition."
Heineken appoints corporate affairs director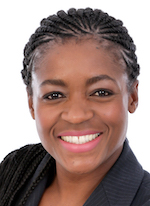 HeinekenSouth Africa has appointed Millicent Maroga as its corporate affairs director. Maroga is member of the company's management team, reporting to managing director, Gerrit van Loo.
In her role she will be responsible for driving Heineken South Africa's sustainability programme, Brewing A Better World, ensuring that South Africa's fastest growing beer producer contributes to transformation, reduces its environmental impact, engages and grows with communities, while prioritising responsible consumption. She will work closely with various stakeholders to ensure that all issues relating to corporate governance are undertaken to the highest standard of probity.
Maroga holds an honours degree in Sociology (cum laude) from the University of Johannesburg, a master's degree in Globalisation and Development from the Institute of Policy Development and Management at the University of Manchester in the UK and has completed the Programme for Management Development through GIBS.
AMASA adds to its Board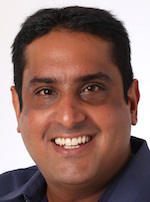 The Advertising Media Association of South Africa (AMASA) has announced two new additional members to its board of directors. AMASA welcomes Mpho Maseko and Parmeshan Moodliar to the table.
Maseko and Moodliar join current directors Wayne Bischoff, Wayne Bishop, Karen Bailey, Lyn Jones and Rob Smuts. Bischoff said: "Both Mpho and Parmeshan are old hands at AMASA so to speak, having spent the past five and three years on the committee respectively. They have already added enormous value to the committee and we have no doubt that they will continue to do so as directors of AMASA."
Business moves
Moving Tactics launches digital signage rental finance division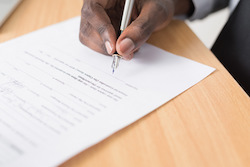 Moving Tactics has launched a new rental finance division in response to increased calls for financing solutions for digital signage equipment. The division will enable customers to install the latest digital signage hardware and software while automatically implementing replacement and disposal strategies.
"Clients have been asking us for a financing solution for many years and we felt now was the optimal time to launch our Moving Tactics rental finance division," said managing director, Chris Day. "Businesses of all sizes are under strain financially and with the fluctuating rand/dollar exchange and unpredictability of the international trade environment, we wanted to provide our clients with financing solutions that would allow them to install the latest equipment and maintain that standard for years to come without having a massive once-off capital outlay".
The Rental Finance solutions offered are in line with international standard practice. According to Jacqui Wright and Sam Dippenaar, who have used their years of rental finance experience to establish Moving Tactics' Rental Finance Division, this form of rental financing is the preferred choice for progressive businesses.
Rental finance solutions work well for franchise and corporate businesses and several financing agreements have been finalised with Moving Tactics' QSR and retail clients such Clicks, Edgars and Famous Brands' franchisees at Wimpy.
Global Out Of Home Media secures rights In Yaoundè, Cameroon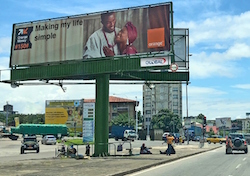 Global Out Of Home Media, which provides advertising solutions across Africa, continues to expand its footprint of quality sites following the renewal and extension of its contract with the Urban Community of Yaoundé, Cameroon.
The contract which came into effect in September 2018 grants shared rights along the highly sought after 23km long Presidential Road in the city. The road extends from the Palace of the President to Yaoundé Nsimalen International Airport, including the new highway section which runs from the airport through to the centre of the city.
Says Sylvain Rouch, GM at Global Out Of Home Media, "In recognition of Global's understanding and service within the Out-of-Home environment in the city, the renewal has been concluded with a longer than normal contract period of eight years. The city was looking to partner with organisations that would provide investment in the area, and deliver a long term vision that would see investment directed at an increased number of premium structures and solutions in key demand locations."
In addition to media rights with access and visibility to highly desirable consumers segments, the contract calls for the beautification of the immediate area along the route. The inclusion of the above provides additional value to the city in its continued efforts to deliver a superior service offering to both visitors and residents, in line with its position as one of the leading West African capital cities.
Conversation LAB locks in global leader ASSA ABLOY across Africa
Full Service digital creative agency Conversation LAB has won ASSA ABLOY, global leader in door opening solutions. This is a significant win for the independent global agency as they continue their expansion both in Africa and Europe.
Conversation LAB has been appointed as the digital agency of record across several African countries including South Africa, Zimbabwe and Kenya.
"Having worked with Conversation LAB before at a multi-national with significant results in a highly competitive market, they were a natural choice to turn to now with ASSA ABLOY to grow our digital footprint in Africa," said Hayley Elwen, ASSA ABLOY, business development director: Africa. "They are a results driven agency that make every cent work, which is exactly what we need now in a tough trading environment. I am thrilled to be partnering with them again and excited about the year ahead."
The agency will be responsible for all digital activity including social media, search engine optimisation, paid media and managing the digital eco-system across core African markets. Central to the strategy is content , here the focus will be on helping consumers with a range of how to videos and tutorial based content which will be delivered by Conversation LAB's in-house film division. In addition, all digital media is to be handled by Conversation LAB ensuring a fully joined up approach under one-roof.
Global business directory, Hotfrog appoints South African licensee
Moboom Ltd, owner of the global business directory, Hotfrog, has announced the appointment of Reputation Matters to operate the Hotfrog platform in South Africa under license.
Australian based company, Moboom, has revolutionised how websites can be mass produced at a high quality and rendered across all devices seamlessly. Global business directory, Hotfrog, operates in 32 countries in 15 languages, and since its inception in 2006, has grown substantially to host 101million small business listings across virtually every business category.
The appointment comes ahead of the planned release of Hotfrog Digital, a complete rebuild of the directory on the patented Moboom platform. The upgrade will ensure that Hotfrog's small business subscribers will enhance their online presence by being part of a super-fast loading directory site, with accurate data securely hosted on Amazon Web Services (AWS).
In addition, through a partnership with Yext, a digital knowledge management platform, Hotfrog subscribers will also be able to easily publish their business details to many leading search engines and authoritative websites. This will ultimately boost their chances of being found online, particularly on mobile devices as at least half of the South African population owns a smartphone*.
Durban's leading bridal event appoints UrbanHouse Media as PR agency
KZN Midlands-based PR and media communications agency, UrbanHouse Media, will once again be managing the public relations, digital and social media marketing for Durban's leading bridal show, the 2019 Brabys Future Bride Bridal & Beauty Show, formerly known as the NWJ Bridal and Beauty Experience.
UHM will be creating original content for traditional, digital and social media platforms in an interactive public relations campaign to generate credible media opportunities and online awareness for the event by bringing the best of the bridal and beauty worlds together through a strategic and modern public relations campaign.
The Brabys Future Bride Bridal & Beauty Show will offer the KZN bridal market a fresh, modern and unique experience at the Globe at Suncoast Casino from Friday, 1 to Sunday, 3 March 2019.
De sa Garces and Gardner launch ADSG creative partnership
Director Adrian de sa Garces and producer Lisa Gardner have launched ADSG, a branded creative partnership that will be repped by Egg Films in South Africa and Nicholas Berglund in Europe.
ADSG will maintain its own identity, while benefiting from Egg's infrastructure and local agency relationships, similar to how Egg worked with Terence Neale as Humanoid. ADSG will work out of Upper Pepper, Egg's new offices in the Bo-Kaap.
De sa Garces made his name at Velocity, where his work featured repeatedly on sites like Shots; won everywhere from the Clios to Dubai Lynx to The Loeries; and was named Millward-Brown's Best Liked Ad of the Year, among other accolades.
In addition to his advertising work, De sa Garces exhibits his black-and-white landscape and abstract photography as Republic of Nowhere. His strong photographic eye is evident in all his work but he's a true all-rounder, as comfortable working with complex VFX and animation as he is with performance and story.
"I've always loved Adrian's work and admired his gift for craft-driven comedy," says Colin Howard, Egg Films' executive producer. "And Lisa's family – in multiple ways – so we're delighted to have them as part of our nest."
Cellulant partners with Facebook to launch Africa's  first AR experience on Messenger
Pan-African Payments company, Celulant, has built the first Augmented Reality (AR) powered try-on experiences in Facebook Messenger.
As part of the roll-out programme, Kenyan brand Huddah Cosmetics has been selected as the first social commerce merchant on Mula to launch the platform, leveraging on Facebook to provide a unique product discovery shopping experience for their customers.
Cellulant has recently extended product offerings on it's Mula payment platform to include Mula Shops – a simple and convenient online shopping experience for the rising number of micro-merchants (or Hustle-preneurs) on social networking sites. Mula Shops integrates Augmented Reality into the Facebook Messenger where customers are able to discover and try products before they purchase. Brands that leverage social media as platforms for e-commerce can now give their customers a world class one-stop shop service from trial, to payment and delivery, all within Facebook and Instagram. This is a departure from the current disjoined social commerce experience.
Local digital signature company cements international alliance
It is now official: South African-born digital signature and workflow solution, SigniFlow, has landed on American shores, to provide the Americas with an innovative, highly efficient and socially responsible product for business process automation.
A woman-owned small business based in New Hampshire in the United States, SigniFlow Americas is a member of the New Hampshire Tech Alliance – an affiliation committed to nurturing a vibrant technology ecosystem by building partnerships, enhancing knowledge, and shaping public policy.
The woman behind this exciting new digital signature solution is Laila Robak, a Brazil-born entrepreneur with a passion for information technology and the power it has to transform and improve lives.
"We are very excited about the launch of SigniFlow Americas, and with Laila at the helm, this business is destined for greatness. We are proud to welcome all our Americas customers and partners to the global SigniFlow family," says Leon van der Merwe, director of digital technologies at SigniFlow headquarters in Kyalami, Johannesburg.
Making moves
HWB wins big at global PR awards
Cape Town based HWB Communications recorded its best performance ever this year, at the 2018 annual Best Practice Awards hosted by the Public Relations Global Network. The awards recognise agencies for their innovation and creativity in the execution of communications and PR briefs on behalf of their clients.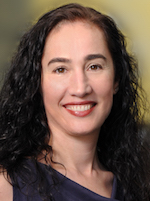 The PRGN is a network of 50 independently owned PR agencies around the world, of which HWB is the only representative from Africa.
"We walked away with two gold, two silver and one bronze award, which made us the joint most awarded agency in the 2018 edition of the awards. US based Landis Communications also walked away with five awards," said Lynn Erasmus, HWB's managing director (left).
HWB won awards in the B2B Communications Category (Gold for the 2018 Africa Health Conference, and Silver for SOLA Future Energy), Gold in the Crisis Management Category (for its public information campaign around the Listeriosis crisis, for Nilfisk and Averda), Silver in the Financial, Communications Transactions and Investor Relations Category (for Anuva's Section 12J project), and Bronze in the Public Affairs and Lobbying Category (for the launch of the annual SA Reconciliation Barometer, on behalf of the Institute for Justice and Reconciliation).
This year, a record number of 29-member agencies participated in the Best Practice Awards programme, with 106 entries submitted, of which the best of the bests earned awards, as voted upon by agency leadership.
Founded in 1990 by a group of visionary public relations leaders, with more than $101 million in revenues and approximately 1,000 professionals in 50 locations, PRGN is one of the world's largest international public relations networks.
The ARB is open for complaints
The newly formed Advertising Regulatory Board (ARB) is open for complaints and has already issued its first formal decision.
The ARB was formed by the marketing and advertising industry after the Advertising Standards Authority of South Africa was placed into liquidation, leaving consumers with no recourse when they wanted to complain against the content of advertising. The new entity fulfils this function.
"One of our biggest challenge at the moment is making consumers aware of where they need to go to complain about the content of advertising," said ARB CEO, Gail Schimmel. "Our website at www.arb.org.za has an easy to use complaint form, or they can email complaint@arb.org.za."
"It's a good idea to read the website, and look at Section II of the Code, before you lodge a complaint," said Schimmel. "The better reasoned and motivated your complaint is, the more likely you are to have success."
Good Hope FM is the official radio partner of Paarl Rocks & Cape Town Blitz for the 2018 Mzansi Super League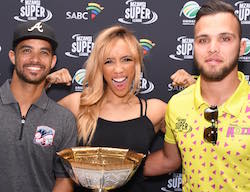 For the first time in the history of the radio station, Good Hope FM is the exclusive, official radio partner to not one but two of the six participating sides at the 2018 Mzansi Super League T20. Having kicked off on Friday, 16 November the tournament ends on 16 December 2018 and will showcase some of South Africa's best cricket talent, playing alongside top international players to create must-watch, high action, fast-paced cricket for everyone to enjoy.
"We are delighted to partner with such a high profile sports event and we intend to show everybody just what we can do to support our teams plus add value and vibe to the overall experience at PPC Newlands, Eurolux Boland Park and of course, live on Good Hope FM" said Brendan Ficks, Good Hope FM station manager. "We'll be doing various live broadcasts plus live DJ mixes, digital coverage, interviews and more. We encourage everyone to come out in their numbers to support the event and their favourite teams – and to have loads of fun with Good Hope FM."
Lucas Radebe and Jawitz Properties team up for the launch of Jawitz's new brand campaign #RealLifeRealEstate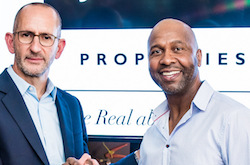 Jawitz Properties has premiered their new brand campaign #RealLifeRealEstate along with their new brand ambassador, football legend and previous Jawitz Properties client, Lucas Radebe, who tackled the emotionally-compelling story of 'what makes a house a home'.
According to Herschel Jawitz, CEO of Jawitz Properties, "We are delighted to have Lucas on board, sharing his story, in order to encourage South Africans to share theirs".
Lucas Radebe said, "I have stayed in many houses in my lifetime. From Diepkloof Zone 4 to Bophuthatswana, all the way to Elland Road in Leeds, but for me there will always only be one home – South Africa. Having had so many houses, I want to share my own trials and tribulations of my #RealLifeRealEstate journey. It was the authenticity of the campaign that lured me to this project as well as the rewards that are on offer to the average South African."
IMImobile SA joins Google's Early Access Programme for RCS Business Messaging in Africa
IMImobile SA, part of IMImobile PLC –a global cloud communications software and solutions provider – has joined Google's Early Access Programme for RCS (Rich Communication Services) business messaging offering in Africa. RCS will allow millions of businesses in Africa to make use of more interactive messaging features such as branding and business verification, suggested reply buttons, rich card carousels and end-to-end payments.
IMImobile PLC, who joined the Google's Early Access Program for RCS Business Messaging in 2017 will be working through its African operations, IMImobile SA, based in Johannesburg to offer RCS business messaging to the wider African continent. For Google, working with mobile messaging specialists, like IMImobile SA, helps with the roll out of RCS business messaging across Africa, a continent with more than one billion people.
---