The Media Online's weekly column delivering news of award wins, entries, competitions, dates to note and winners in the media.
Ogilvy wins record 16 awards at the 2023 One Show for creativity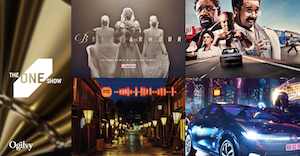 Ogilvy was recognised as the most awarded agency in South Africa at The One Show, with an amazing 16 awards. The highly regarded awards event celebrates the best of the best in creativity, recognising the ground-breaking work of the world's greatest minds in the fields of advertising, design and digital marketing. For the past five decades, The One Show has been honouring visionaries and industry leaders in the creative industry.
"We are delighted for our clients and teams to have won these awards. They're a testament to our commitment to collaboration, strategic thinking and delivering impact for our clients," says Pete Case, CEO & Creative Chairman of Ogilvy South Africa.
"We're proud to see our work not only delivering effective results and selling products for our clients, but also creating consumer connections, sparking conversations and driving positive change in our society. This recognition reinforces our belief in the power of storytelling and the ability to create memorable experiences that resonate with audiences."
These wins follow a positive run for Ogilvy, after being announced as the industry leader at Cannes last year and also at the Clio Awards earlier in 2023. Reflecting the resurgence of Ogilvy's creative positioning in the marke
FCB takes a Pencil for DYICTA's corporate identity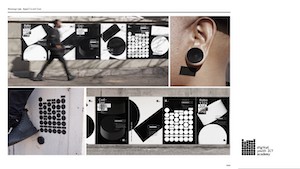 FCB has been honoured with one of the most prestigious design awards, a yellow D&AD Pencil, solidifying its position as a leader in the field of graphic design.
The award recognises the exceptional creativity and innovation demonstrated by FCB in the development of a cutting-edge design identity for DYITC (Digital Youth ITC Academy).
In addition to this recent accolade, FCB has al    so garnered recognition at the 2023 esteemed Loeries Awards, being acknowledged as one of the top agencies in the graphic design space. This consistent acknowledgment reflects the agency's dedication to pushing boundaries and consistently delivering timeless, high-quality design work.
"We are incredibly honoured and proud to receive this prestigious design award," said Thabang Lehobye, FCB's Head of Design. "It is a testament to the talent, creativity, and dedication of our team. We strive to create designs that not only visually captivate but also communicate the essence of our clients' brands."
Year two of the DStv Content Creator Awards brings another informative Emerging Content Creator Workshop to Johannesburg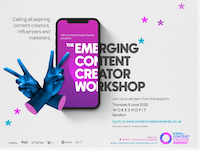 The highly anticipated 
DStv Content Creator Awards 
are back for a second year, and this time they are hosting an informative Emerging Content Creator Workshop in Johannesburg.
The workshop, scheduled for Thursday, 8 June at Workshop17 in Sandton, promises to be an exciting opportunity for aspiring content creators to learn from industry experts. With a diverse line-up of speakers and topics tailored to inform and excite emerging and up-and-coming content creators, attendees can expect a day filled with valuable knowledge and networking opportunities.
DStv: Creating winning local content
Content Creator Panel Discussion: How to create engaging content
One-eyed Jack & Steyn Entertainment: Marketing, PR and the business side of content creation
Spotify: Let's Talk Podcasts!
Workshop17: Collaborations & Partnerships
947: How to stay at the top of your game & announcement of crew search competition
Studio Reach: Top tips for emerging creators
TikTok: TikTok Masterclass
Sol: Working with Brands
"The DStv Content Creator Awards are not just about recognising exceptional talent but also about supporting emerging creators who may lack the resources or know-how to pursue content creation as a career," said Awards' CEO, Manuela Dias de Deus "This workshop aims to bridge that gap by providing aspiring content creators with the necessary skills and insights to succeed in this dynamic industry."
Tickets for the workshop are free, but attendees need to register in advance due to limited seating. Interested individuals can secure their spot by registering through the official event website, 
register here
.
The doors will open at 09h00 with the workshop starting at 09h30 and ending at 16h00, a light lunch will be provided for attendees.
Award-winning South African ISP shares recipe for success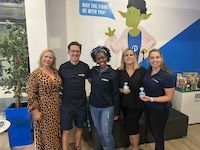 After an unprecedented period in South Africa's energy history that has seen the country require more agile thinking and innovation than ever before, one Internet Service Provider (ISP) has proven it has the tech knowhow and tenacity to keep the internet on regardless of the circumstances. So much so, that ISP Cool Ideas has won an award as the Best Fibre Internet Service Provider of the Year, by MyBroadband, for the third consecutive year.
The prestigious MyBroadband Awards are given out annually to top-performing companies and executives in the IT, Telecommunications, and Technology sectors.
Based in Johannesburg, Cool Ideas currently services over 40 000 South African users across 35 networks monthly, through its FTTH (Fibre to the Home), FTTB (Fibre to the Business) and VoIP (Voice Over Internet Protocol) offerings. With an average speed of 43 Mbps, the amount of data processed totals 4 million Netflix episodes every month.
INMA reveals 40 Global Media Awards first-place winners, Bergens Tidende takes top prize
The International News Media Association (INMA) has announced 40 first-place recipients in its 2023 Global Media Awards competition, with Bergens Tidende's Journey Around the World taking the global Best in Show.
The INMA competition, which has been rewarding media excellence since 1937, evaluates news media companies across two segments: national brands and regional brands.
The 2023 Global Media Awards competition attracted 775 entries from 239 market-leading news media brands in 40 countries. Participants included newspaper media, magazine media, digital media, television media, and radio media. An international jury of 54 media executives from 19 countries selected 198 finalists earlier this year.
Judges also selected the best in six world regions from the finalists:
Best in Africa: Media24 Group for "Adspace24 – Swipe Cards and Catalogue"
Best in Asia/Pacific: The Straits Times for "World Cup: A 'Hat-Trick' Special"
Best in Europe: Bergens Tidende in Norway for "Journey Around the World"
Best in Latin America: Editora Globo for "Um Só Planeta"
Best in North America: The Wall Street Journal for "The Future of Everything Festival"
Best in South Asia: Bennett, Coleman, and Co. for "The Times of a Better India""We were honoured to be able to celebrate these huge accomplishments in person for the first time in four years," said Earl J. Wilkinson, executive director and CEO of INMA. "The brilliance of this 2023 class really shined a light on the creativity and innovation taking root in the news media industry. We're incredibly proud of all the entrants, and especially of this year's winners."
Entries open for the 2023 lsu Elihle Awards
Media Monitoring Africa (MMA) invites journalists within the African continent to apply for the lsu Elihle Awards. Applications for this year's awards are open and will close at midnight on the 15 June 2023. MMA's awards seek to give children a voice and highlight the status of children in our continent. Journalists are encouraged to submit their story ideas and these can be targeted at any mainstream news medium such as TV, Radio or Online.
The finalists will each receive guaranteed financial support to develop their concepts. The final stories will be ranked and the final cash prizes will be awarded as follows: ZAR 25 000 (overall winner); ZAR 15 000 (2nd place); ZAR 10 000 (3rd Place).
To enter, click here.
Standard Bank crowned Africa's Most Admired Financial Services Brand
Standard Bank has been named as most admired financial services brand, as announced by Brand Africa in the release of its latest research and rankings.
Standard Bank was crowned ahead of its competitors in a specific category ranking of the Top 25 financial services brands on the continent jumping from its 6th ranking position in 2022.
Brand Africa's list is based on a survey and rankings conducted by Geopoll, Kantar and Brand Leadership, across 32 African countries that account for more than 85% of the continent's GDP and population.
South Africa shines at Customer Centricity World Series Awards
(Wednesday, 24 May 2023) South African customer experience company, nlightencx, won CX Agency of the Year at the inaugural Customer Centricity World Series Virtual Ceremony, held on 18 May. The global event, which had over 210 entries from 98 companies across 26 countries recognises the world's most customer-centric businesses.
CEO of nlightencx Nathalie Schooling says "Not only is it an honour to be recognised on the global stage, but to represent South Africa as leaders in the CX space. Very often SA service gets a bad rap, but local companies have a lot to offer when it comes to good CX, and it's a privilege to be at the forefront of helping these companies to reach their full CX potential."
The leading customer experience agency was also shortlisted for the CX Solution of the Year award, as well as the Customer Insight & Feedback (VOC) award. To win in the Agency of the Year category, nlightencx had to demonstrate how they develop and implement superior CX methodologies and tools to increase customer satisfaction for their clients.
"Great CX is about truly understanding what people want and need. Relying purely on collecting customer feedback and data and not knowing what to do next has been a major problem for SA businesses, and this is the gap we've worked hard to successfully fill," says Schooling.
Getting companies to take customer experience seriously isn't always easy according to Schooling, especially when South Africa is still considered to lag behind their global counterparts in CX. But in working with some of SA's most renowned and established brands, the company has seen first-hand how customer experience can make or break a business.
"If I can leave SA companies with one message, it's don't get complacent. We are living in tough times with businesses coming up against challenges like loadshedding and rising living costs. In keeping your eye on the CX ball, you have a better chance of retaining your client base and can even enjoy growth in an unfavourable business climate."