A recent campaign by Nando's, executed in part on the pages of the Sunday Times, brought into sharp relief how newspaper management teams are pushed to find new ways of advertising in a cluttered and fragmented media space.
The #rightmyname campaign had right on its side, and popular public support. So while some thought it had blurred the lines between editorial and advertising, others posited that newspapers had to find innovative ways to attract advertisers, and native advertising, well done and clearly marked as such, was one way of doing so.
But what happens when it goes wrong? The SABC recently came in for major flak after talk show host Anele interviewed former social development minister, Bathabile Dlamini. What the SABC didn't say, or make clear while the interview was being broadcast, was that Dlamini's department, through GCIS, had allegedly paid a substantial R500 000 for the pleasure of seeing the minister, who has a battered public image, being interviewed by one of its stars.
"What she has done is destroy the public broadcaster's journalistic credibility, undermined its integrity, and compromised its professionalism," said journalism professor, Anton Harber, in a piece published by the Daily Maverick.
Of course, Dlamini complained to the Press Council. In his ruling, the Press Ombud pointed out that Section 10.5.5 of the government's own GCIS Handbook for Communicators does provide for payment of advertorials, though. It reads, "[An] advertorial (advertisement + editorial = advertorial) is a paid-for media space. The difference, however, is that it appears to the reader as news copy, although branded as 'advertorial'. Although creating the effect of greater credibility, advertorials still carry a high cost factor and, where they are detected, an image of low credibility…"
The Ombud found that Harber's piece was substantially true. The department of social development HAD paid for the space. "If the Minister did not know at the time of the interview that viewers were not informed that the airtime had been paid for (which is possible), I would not have expected Harber to blame her for tarnishing the SABC's credibility if she afterwards explained that she did not know, corrected the situation, and apologised for it. This, she did not do – hence Harber's criticism," the Ombud wrote. He dismissed Dlamini's complaint.
Back to the Sunday Times, and another government-placed advertorial. This past weekend, the newspaper carried a piece headlined 'Gauteng revs economy via investment'. It did carry a red box saying 'SPECIAL FEATURE brought to you in partnership with the Gauteng provincial government', but it was also printed to look just like editorial, to the extent that it was tagged 'NEWS' like genuine news pages. As someone wrote to The Media Online, "Like Australian cricketers, the Sunday Times constantly pushes the line".
A wrong impression
Of course, the Democratic Alliance immediately jumped in to the fray. National spokesperson, Refiloe Nt'sekhe, said the party would file a complaint with the Press Ombudsman. Nt'sekhe pointed out that Section 2.4 of the Press Code stated, "Editorial material shall be kept clearly distinct from advertising." The Sunday Times, she said, had not clearly distinguished the page 8 feature as an advertorial, and that it had "masqueraded" as news.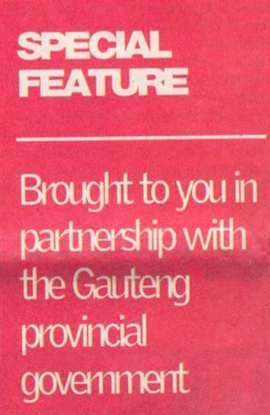 "The Sunday Times and Tiso Blackstar Group have a strict policy on native advertising. The key element to this policy is that it should be clearly and prominently marked to ensure that the reader is not misled. We accept that during the editing process, the News flag/tag on the top-left of the page was not removed, creating a wrong impression that this page was a continuation of news pages. That is regrettable and we will ensure that it does not happen again," Reardon Sanderson, general manager of group sales and marketing at the Tiso Blackstar Group, told The Media Online.
The DA spokesperson, however, pointed to a recent scandal involving the Sunday Times and former water and sanitation minister, Nomvula Mokonyane. The newspaper carried a huge 'story' on Cape Town's impending Day Zero headlined 'Cape Town's dreaded Day Zero can be avoided'. And while it was noted as a 'special feature', at no point did it say it had been paid for by Mokonyane's department. Worse, the minister had laid into the opposition, saying 'Water Minister tells DA finger-pointers to dry up'.
A mediated settlement
"Staggering," said Media Monitoring Africa's executive director, William Bird. "If true it is clearly an egregious violation of the most basic ethics and we need to demand clear action against those responsible. It violates the basic notion of news and failing to alert readers to the fact it was paid for advertorial is appalling. There was outrage about the SABC paid-for programme. This is… as damaging and awful a practice."
The DA, again, complained to the Ombud. Nt'sekhe told The Media Online that in this case, the Press Council had not made an official ruling. Instead it assigned a public advocate to mediate the matter.
"In a written response, the Sunday Times admitted that they 'should have alerted [their] readers to the fact that the content was sponsored by an outside party' and granted the DA a right of reply on Monday, 5 March 2018. Although the DA expected a right of reply equivalent to that of the sponsored content that was placed and not acknowledged, we still welcomed the 300 word right of reply afforded to us and now consider this matter closed," Nt'sekhe said.
Harber reckons this piece, and the Dlamini paid interview on SABC, signalled, "A trend towards politicians corrupting the media for political gain, and some editors prepared to sacrifice their long-term credibility for short-term financial gains. We need to be vigilant and expose this wherever it happens, and try and force media houses and the government to keep to their own codes and policies which are meant to prevent this abuse", he said.
Crossing ethical lines
Veteran news editor and journalism trainer, Raymond Joseph, agrees. "There can be no excuse whatsoever that the Mokoyane water feature crossed an ethical line. This was made worse by the fact that some of the editorial, placed by an ANC minister, attacked, the DA. Because it was seen as an ad, the stories slipped through the editorial checks and balances and earned the Sunday Times a rebuke by the Press Council," he said.
"There can never be an excuse for not flagging paid-for content as such. I can't remember what font was used for the stories but, when I was news ed at the Sunday Times many years ago, there was a hard and fast rule that the editorial font was not allowed in adverts. I suspect that rule still exists, as it does at many other publications."
Ava Sirrah, a Ph.D. candidate at Columbia University, where she studies how native ads impact newsroom decision making, said in a piece published by MediaShift that often, "when writers discuss the ethical implications of native advertising, and how the newsroom feels about the practice, they seem to forget that editors know it helps the paper. Editors are aware that if they can work with advertisers without sacrificing their vision and mission, the extra dollars help secure the newsrooms' survival".
Sirrah worked for The New York Times' native advertising content generator, T Brand, which creates and distributes "insightful brand content and experiences that shape opinion".
Demands of advertisers
"The demands advertisers have placed on publishers have evolved quite ominously from T Brand's inception in 2014. Debate over the clear labelling of branded articles seems like child's play today. Now many regulators — and even people in the industry — have a hard time defining what should be labelled as native content. It is no longer as easy as spotting a branded article and asking a publisher to put a disclaimer on it. NYT's partnership with Samsung is a prime example of this.," Sirrah wrote.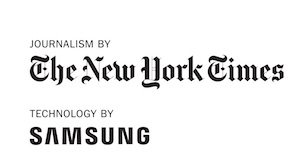 She recounts how the creative strategy team were asked to create a custom ad opportunity for Samsung, which resulted in The Daily 360 campaign, a video series. Content was never branded 'sponsorship' or 'advertorial'. Instead, a press release noted "Times journalists have been provided with Samsung Gear 360 cameras and equipment to use while reporting out in the field." Sirrah said the 'partnership with Samsung showed "the pace at which publishers are forced to generate novel advertising opportunities in an effort to secure much needed revenue".
Sirrah admits the level of transparency across publishing has changed, saying the blurring of editorial and advertising is an industry-wide trend. She said, "It is nearly impossible for people to know what to regulate if they can't even spot the advertising execution after it has gone live."
As media commentators and analysts told The Media Online in our #rightmyname story, it certainly is time for a "bigger conversation" around the issue.
---