#Buthelezi passed away shortly after his 95th birthday. It took 95 years for South Africa to voice its opinion on the Prince #Mangosuthu 'Gatsha' #Buthelezi.
This week the nation broke its silence. It's a heavy week of rumination about a warlord turned statesman. I guess that's why you're here, to #ScratchTheSurface of the week's media with me Tonya Khoury.
Thula, thula mama
(Oooooh) Everything is gonna be alright
Over half a million people engaged on social media platforms about the death of the political leader, prime minister and … monarch? I suppose so, he was a Prince after all. Here's what I know as a South African raised on a white #BantuEducation.
I knew he was involved in factionalism, I didn't know that he was a creator of hostels in all townships that housed trained Zulu soldiers tasked to kill the ANC freedom fighters even if they were children.
My understanding was that cut a deal for the elevation of his tribe or 'nation' as white #Bantueducation taught us that he elevated the Zulu Kingdom. My education was the soft touch, the truth about #Buthelezi is that he masterminded many massacres.
Talking Boipatong
Today I feel like I have the courage to talk about #Boipatong, because I have a close friend who survived the massacre. She was three years old at the time. She was sleeping in her bed next to her cousin who was in her early teens. They both had the same second names and were close. They were not alone in the house but while others managed to hide or escaped my friend got brutally and almost fatally stabbed at the age of three.
Her cousin was hacked to death. We spoke about the death of #Buthelezi and although she still bears the scars, she hopes that #Buthelezi finds peace. She says that if she could have spoken to him she would have told him to "'fess up and apologise for killing your people". She said if he'd have done that, he would have shown some ubuntu but that he lacked that very core trait and his legacy will always hold that.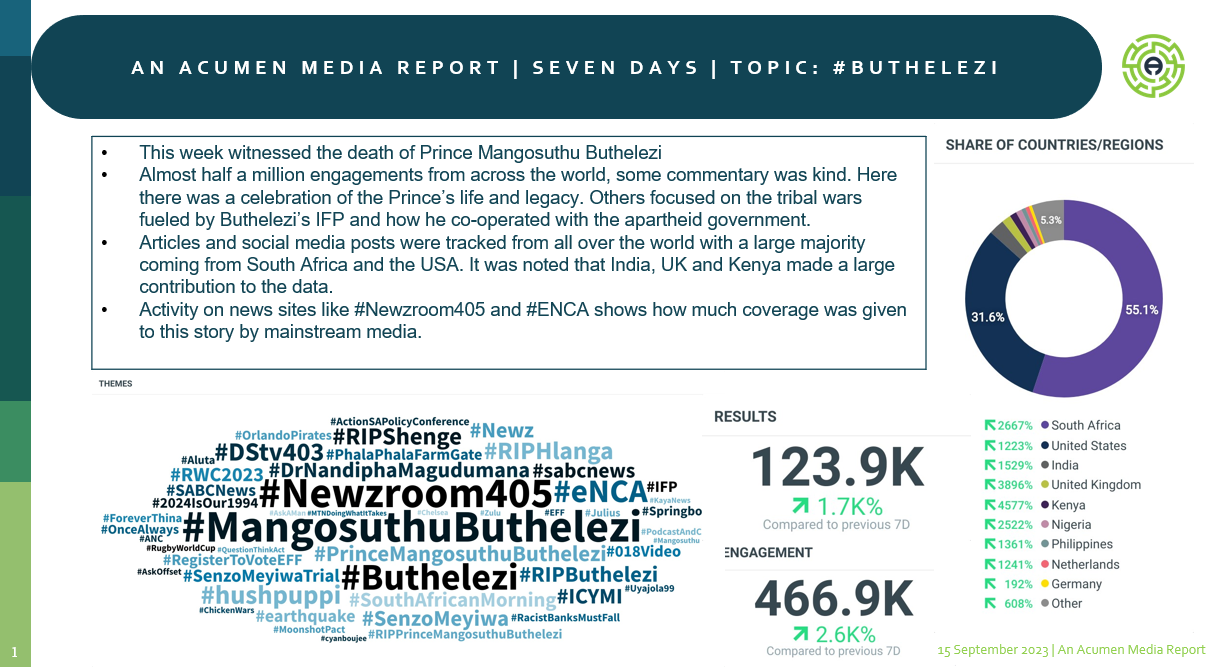 Boipatong – May your loved ones rest in peace
They were attacked and brutally killed
I'm talking about babies and old people too
No we must help them to get back on their feet
We can't allow this to happen again no
These are the words of #BrendaFassie and sadly we have let this happen again, over and over again.
My opinion? I think you judge the man on his whole life. His last deeds are always more important than those before them. I did see this in #Buthelezi, I saw a man who worked tirelessly for the #ZuluKingdom, he never stopped, and I bet anything that two days before he died, he attended a meeting of some sorts.
Every time there was a frightening rumble in the #ZuluKingdom, this mild-mannered, seasoned politician and royal would take a slow walk up to the blazing fire and quell it. Every time there was a ruckus in parliament (even during Zuma's era), #Buthelezi would be the single voice of reason and decorum in the house. For me, the older Buthelezi saved lives, many of them.
What begs the question, as it does with so many politicians around us today, why didn't anyone deal with the war crimes (because that's what they were) while he was alive? Were you too scared, guys? Scared you'd feel the wrath of the #ZuluNation? You waited until he died to stand off against the man. And all that does is leave regret and unhealed scars. #ScarsOfRegret
Our legacy
This is a legacy of South Africa though, we watch war crimes every day. The slaughter of women and children goes without our attention as we skip over headlines of a teacher who raped one of his pupils and encouraged another to join him. These are not headlines, they're just battle scars.
Let me try to cheer you up. It was like #Oprah rode into town this week as everyone was in court on September the 11th. "You get a court case, you get a court case, everybody gets a court case". I'll rattle them off, shall I, save your aggravation of watching YouTube. #Malema #SenzoTrial #ThaboBester, #ZumaPrivateProsecution.
Julius Malema and his white lawyers were in court about the firing of the gun – is this even relevant? The lawyers tore the case apart based on police incompetency, yawn. Julius, true to form, told off the judge for being late, which she waved off as a load shedding issue and seemed really amused at old Juju having a rant on tardiness. #Electioneering101
uBaba loses again
#DrNandipha didn't get bail but she looked amazing; hair, nails make-up and outfit all on point. She should get released just for her ability to look like she stepped off the cover of Vogue from a prison cell. That's a great talent. Turns out though, the judge doesn't care for labels and pretty; the judge didn't even care when #Nandi sang a little song and she was refused bail.
Guys, what is this nonsense? Ten bucks says this whole story is made up and was used to stop us asking questions about #LadyR or #Karpowerships or something like that.
Then there was uBaba. #Zuma appeared in court with the jester #uDali. Dali should get an award for putting the bad guys behind bars. Wait, I suppose he does get a reward, he's paid a fortune. I digress, the case was thrown out of court and the judges told Dali just how useless he is.
We are never going to deal with #Zumas war crimes, we are too scared. Well, I certainly am. We all saw how he orchestrated a coup d'état in days and we are still messing around with the Stalingrad battle scars that will never heal. Just forget it.
Strange Senzo trial
#SenzoTrial saw a judge turn a little strange; we all squinted and tilted our heads slightly to the side when he started to tear chunks out of Advocate #Mnisi because of a missing statement. The witness on the stand was cocky, very cocky, as he was adamant one minute that he had given a very different statement to the one read out in court.
The hunt began for the original statement and it was all spurious. Guys, forgive me, I can't keep up with this case and I'm sure that's the intention. It's been postponed. I'll try again next week.
And the social grants? How long did it take to pay our gogos their small bit of change? Over a week's delay and it has still not been completely resolved. Want to know why? Because of some ludicrous decision to use #PostBank to disburse the payments. We all know, all of us, every single one of us, knows that the Post Office is over, kaput, gone.
It's been gone for a long time and yet there is an executive decision to use an outlet that quite literally doesn't exist to pay the poorest of the poor. The entire board walked out this week, all of them, they called the minister a tyrant. Tell me who should account for these war crimes. We all know the department has run out of money. Are we born yesterday?
These are the people that have no food
No shelter, and nowhere to go oh no
They set up homes wherever they go
But it not easy, oh no
Remember my good friend Madam #Busi Mkhwebane? You know all that fuss. Remember we paid millions, you and me, for Dali to do nothing at all. Well guess what? It turns out the whole of parliament wanted her gone all along.
I kid you not, after years and wasted resources and money we learned that  parliament voted to kick her jacksy out of the PP's seat. It was a ridiculous majority like 380 votes to like 50. So if everyone voted her out, why of why did we waste all that time, money and effort? Who will pay for this war crime?
Stage whatever
My words are few now so at rapid speed. You all noticed #stage6 and #Stage7 looming; it doesn't look like we'll be rocking on to electric avenue anytime soon. This is probably because the #karpowerships are docked and ready in our waters.
This means we will need to beg for the government to commit yet another war crime and sell our souls and environment for the ability to keep warm, cook and wash. There is also a cold front on the way, people will die and we will all look away because that's what we do. #WarCrimes
Wrapping up to a finish line you're going to love: #Springboks really have made us better, even if they look like they're dressed in Checker's packets and #Rassie is shining orange lights. This is all part of a beautiful unity that lies deep inside us South Africans.
You showed flames, boys, we are so proud of you and even though the next couple of games will keep us on the edge of our seats we are standing tall over our pile of nonsense, South Africans united.
Thank goodness for sport, do you see what happens when you leave politics and war crimes at the door?
Thula, thula mama
(Oooooh) Everything is gonna be alright
Across the waters Covid-19 is rife, Morrocco suffered a devastating earthquake and their government couldn't care less as they refuse aid from the likes of Gift of the Givers. #Libya is flooded and the body count rises every hour as the lifeless wash up on banks of a broken country.
#ElonMusk has been branded a traitor as he didn't help #Ukraine with satellites to blow up the Russians. #Kim Jong Un met  #Putin via chooky train. That sounds like a B-grade comedy but it's not, it's a war crime. Snoop Dogg signed up a local artist, Phonixthecool, and that my friends is a good way to end a skanky report.
I'm Tonya Khoury, thank you for scratching the surface with me and Acumen Media.
Boipatong
We give you hope and sympathy
Boipatong
(May your loved ones rest in peace) Rest in peace
BRENDA FASSIE
---