The Media Online's weekly column delivering news of award wins, entries, competitions, dates to note and winners in the media.
South Africa's DESIREE wins DJ Mag's Future Star Award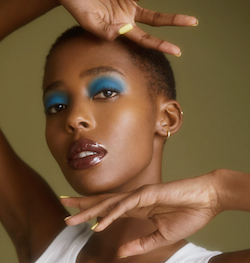 South African DJ/producer DESIREE has solidified her status as a rising force by becoming the first African DJ to receive DJ Mag's coveted Future Star Award. Selected by DJ Mag's editorial team, the award is given to artists poised for remarkable careers, with previous honorees including dance music luminaries Sherelle, Qrion, and Layla Benitez.
"Being from Ivory Park, this moment feels surreal. This award isn't just an honor for me; it's a statement that our music has a global presence", she said.
In the last four years, DESIREE's career has been characterised by a rapid global ascent, and in 2022, it reached a significant milestone with the launch of her debut EP 'Femme Tech' under the Bae Electronica label,  quickly led to a stellar remix for respected artists Keinemusik and a lush reimagining of LP Giobbi's "All I Need" on Counter Records, showcasing DESIREE's exceptional production skills.
On stage, she has graced renowned festivals and venues such as fabric London, New York's Brooklyn Mirage and Ibiza's iconic Circoloco, as well as shared the spotlight with Black Coffee, Rampa, and TSHA among others.
In the near future, DESIREE is gearing up for her latest project, the MMINO record label and party series, a bold celebration that pays tribute to the diversity of South African house music culture and fosters an open-minded atmosphere within the scene.
Winner of Financial App of the Year on quest to empower one million entrepreneurs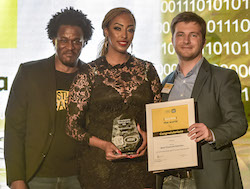 iKhokha, a locally developed all-in-one suite of intuitive business tools that empowers small businesses to compete in the digital economy, has won the 2023 MTN Business Finance App of the Year Award.
iKhokha now joins the ranks of other South African financial solutions that have previously won this prestigious category, including Naked Insurance, Franc, Shyft and Easy Equities.
Founded in 2012 by Durban-based entrepreneurs Matt Putman, Ramsay Daly and Clive Putman, iKhokha is redefining the way SMEs do business through mobile innovation, with the development and delivery of business tools that anyone can use to thrive in business.  
"Winning this award from MTN Business is great recognition of the innovative work our iKhokha team is doing to help SMEs in South Africa, start, manage and grow their businesses," says co-founder Matt Putman. "We are working hard to fulfil our ambition to positively impact the lives of 1 million entrepreneurs in the emerging world and to build a path to international expansion".
The MTN Business App of the Year Awards has established itself as the premier app development platform over the last 12 years and is the largest competition of its kind on the African continent.
iKhokha, which means "to pay" in isiZulu, began their operation by supplying card machines and has grown into offering an array of business tools that enables ordinary South Africans to start, manage and grow a business.
The contribution by small business towards South Africa's economy increased from 18% in 2010 to 40% in 2020. With an estimated 2.6 million micro, small and medium enterprises currently operating in South Africa, small businesses continue to foster economic growth, promote social development and create jobs.
"We hope this award leads to a collaboration opportunity with the MTN group as we believe we are very well placed to partner with them in bringing innovative business and payment solutions to their SME customer base in South Africa and abroad," Putman says.
HOT 102.7FM wins big at National Small Business Chamber Awards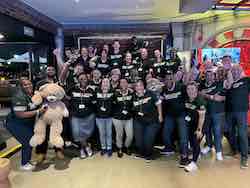 The success story that is HOT 102.7FM has had another significant chapter added, with the Johannesburg-based commercial radio station coming out tops in three categories at the National Small Business Chamber Awards in Johannesburg.
HOT 102.7FM was named the winner in all three categories – namely '2023 National Small Business Champion' and the 'National Community Award' category, whilst HOT 102.7FM founder and Managing Director, Lloyd Madurai, was honoured as South Africa's 'National Entrepreneur Champion'.
The National Community Award acknowledged the extensive work done by the station's Hot Cares initiative, as well as HOT 102.7FM's 'HOT Radio Academy', which provides free radio training to deserving applicants and is the station's commitment to the industry to provide radio training to students, with a view to expanding the skills and knowledge base within the industry.
"HOT 102.7FM prides itself on being a champion of small business in South Africa, so to be honoured by the NSBC means an incredible amount," said station manager Lloyd Madurai. "It's not easy being a small business in South Africa and the past two years have been tough, but the fact that the station is thriving just two years after launch and, as a business, we're being acknowledged on a national platform, is a nice reminder that we're on the right track."
The Innovator Trust Unveils 2023 South African Women in Tech Award Recipients Recognized for Exceptional Contributions and Innovation
Leading advocate for tech entrepreneurship and ICT SMMEs, Innovator Trust has announced the distinguished winners of the 2023 Women in Tech Awards.
This prestigious recognition celebrates the remarkable achievements of women who have made outstanding contributions and demonstrated innovation, resilience, and exceptional growth within their Small, Medium, and Micro Enterprises (SMMEs).
In a spectacular, jam-packed programme led by broadcasters Azania Mosaka, Leanne Manas, and Zuraida Jardine, the award ceremony held on Thursday, 16th November 2023 at the grand Vodacom World venue in the vibrant city of Johannesburg, showcased the exceptional accomplishments of the Innovator Trust Women in Tech Award recipients.
Vodacom Innovator Trust Supplier Development Top Female Achiever Highest Percentage Growth 2022/23 
THABILE MAKHOBA, MAKHOBA PROFESSIONAL SERVICES
Top Female Achiever Highest Percentage Growth 2022/23
1st Place – WAHSEEMA MILLER & NICOLE MILLER, TEMO DIGITAL
2nd Place – NOMPHOMELELO MAHLANGU, SYNERGY TRADING & PROJECTS
3rd Place – LESLEN ASH & MARYSE MONMARCHE, iTECHNOLOGY AFRICA
Enterprise Development Top Female Achiever Quarter 1 2023
1st Place – UNATHI NUKU, NEW ERA IT
2nd Place – JOANNE MADAVHA, DIAMONDS FOR AFRICA CONSULTING
3rd Place – LEIGH DESAI, INNATIV STUDIO
Enterprise Development Top Female Employment Creator 2022/23
WAHSEEMA MILLER & NICOLE MILLER, TEMO DIGITAL
Enterprise Development Top Female Achiever YTD Turnover 2022/23 Winner
WAHSEEMA MILLER & NICOLE MILLER, TEMO DIGITAL
Youth Entrepreneurship Programme Top Female Achiever 2023 
BONGEKA NTSHANGASE
Vodacom Innovator Trust Supplier Development  Female Pinnacle Award 2022/23 Winner 
LILIAN KISTAN, TEKWECOMM
Innovator Trust Enterprise Development  Female Pinnacle Award 2022/23 Winner
KATLEGO MALATJI, PROJECTONE ENGINEERING
Creative Connect Nov '23: Experience award-winning creativity
Red & Yellow students have demonstrated their talent once again this year and showcased Creative Magic and Commercial Logic at the Loeries and more recently at the Pendorings awards. Red & Yellow won the most golds at the Loeries and outshone the other institutions at Pendorings with the most number of awards presented to our Top Talent. Red & Yellow celebrate the students on Thursday 30 November at the highly anticipated Red & Yellow Showcase of 2023 and meet your next Changemaker, Innovator or Creator as they showcase their portfolios and what they can do to bring this unique combination into your business.

FENIX Marketing and Mindpool Productions scoop Newcomer Agency of The Year Award, and two golds at 2023 Assegai Awards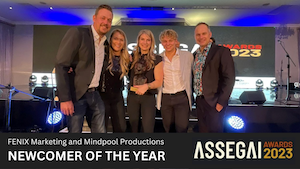 FENIX Marketing and Mindpool Productions were announced as NEWCOMER OF THE YEAR at the recent Assegai Awards, in addition to scooping two gold awards in the Social Media Campaign and Branded Content categories. As first-time entrants to the awards, these Joburg-based small players are proving they punch far above their weight.
Michael Chisnall, CEO and Founder of FENIX Marketing, said, "Being recognised as Newcomer of the Year is no small feat for any agency, it's a remarkable achievement that the team is proud of. On top of that, bagging two golds with Mindpool for our KARAN BEEF – MAKING THE CUT campaign in the Social Media Campaign and Branded Content categories made it a special and memorable evening. Claiming three major awards in big categories, up against the best in the industry only feeds our passion and drive."
Making The Cut ran across digital and social media platforms and saw 12 much-loved South African celebrities facing BEEF, the KARAN BEEF mascot. Overall, the campaign received 79 million impressions on social media, showing the love South Africans have for comedy. All 12 episodes were aired on YouTube, Facebook, Instagram, and TikTok every two weeks over seven months.
Rising above the noise in Small Business Excellence
Standard Bank has announced the launch of the inaugural Supplier Development Summit and Recognition Awards, set to take place on 29 November 2023, in Johannesburg.
Embodying the theme Rise Above the Noise, the summit will tackle the challenges faced by SMEs in a competitive marketplace with the aim to guide enterprises towards success.
Kholofelo Shaai, head of supplier development Standard Bank South Africa, said, "Supplier development encourages businesses to cultivate long-term relationships with their suppliers, empowering them to grow and succeed. For us, it is important to champion supplier development by focusing on strategic levers to uplift small and medium-sized enterprises."
The summit will provide SMEs with valuable insights, networking opportunities, and access to resources that will enable them to overcome obstacles and capitalise on opportunities.
The Recognition Awards, a highlight of the summit, will celebrate extraordinary SMEs, disruptors, change makers, and leaders who excel in the Standard Bank Supplier Development program. The awards will be presented in five categories:
Innovation: Acknowledging SMEs that have demonstrated exceptional creativity, originality, and forward-thinking in their businesses, including technological innovations.
Growth: Recognizing SMEs that have effectively scaled their operations, expanded market reach, and achieved financial success.
Social and Environmental Impact: Celebrating SMEs making a positive difference in local communities, going beyond commercial success to create tangible social benefits.
Digital Transformation: Acknowledging SMEs leveraging digital technologies to enhance business operations and drive efficiency and innovation.
Resilience: Recognizing SMEs that have adapted to changing circumstances, continuing operations despite setbacks like COVID-19, load shedding, or unfavourable economic conditions.
For more information and to register for the event, please contact Jade Searle on searlej@arena.africa