The Liberty Radio Awards Conference was a support event to the 2018 Liberty Radio Awards. As the latter was scheduled for a Saturday night, I understand the decision to run the conference on the morning of the awards ceremony to give out-of-town attendees the opportunity to attend both events cost efficiently.
But I suspect that this decision may have impacted on the stature of the conference itself: A late start and an early finish was required to accommodate travelling out-of-towners, making the conference itself pretty brief. Perhaps I am bit of a masochist, but if I am attending a conference, albeit on a Saturday, then I want to do my time at it.
I also suspect that the choice of day resulted in essentially restricting the potential pool of conference delegates to short-listed awards entrants. Certainly I can't imagine that a Saturday event would appeal to a broader audience. To be fair, the conference was aimed at broadcasters, with the promise that it was the ideal opportunity to "learn more about radio, to discover new ideas and thinking behind radio and to sharpen your offering to ensure that you make radio that clients want to associate with, and want to allocate their budget to."
But surely it would be no bad thing to have made the conference more accessible to those very clients on whom the medium is so dependent?
Even more so because the panel discussion line-ups were pretty impressive. Justine Cullinan (in her pre-Coca-Cola life, still station manager of 5FM, Kevin Fine, GM of Jacaranda FM and Neil Johnson, programme manager at Kaya FM 95.9 discussed programming trends and developments, moderated by Lance Rothschild, CEO of Liberty Radio Awards.
For predictors of radio's demise this would have been a salutary discussion, because even though it was clear there are many challenges for broadcasters as the non-linear audio environment evolves, there was also a clear sense of energy in tackling them.
It was intriguing to hear how viewpoints diverged, suggesting that solutions for the future will not be cookie cut. Cullinan enthused about 5FM's "romantic affair with digital", pointing out that the station's digital community was far bigger than its BRC RAM audience. She also underlined the value of digital in providing free and available research on an ongoing basis, allowing the station to cast its audience as "co-creators" rather than passive listeners.
By contrast, Johnson referred to digital as "that crying baby you can't get rid of" – it has to be tackled, but it does not pay, in his view. Understanding audience needs was as important to Johnson as to Cullinan, but he indicated his strong reliance on his small but vital internal research department. There was certainly consensus that the interpretation of research data is where "the rubber hits the road", and that "guts", a unique combination of experience and courage, plays a significant role is successful programme creation.
The most significant assurance of the future of the medium for me was the uncontested agreement amongst the panellists that the real human connection of radio remains irreplaceable. An example of this was the exercise in both art and science required to create a station playlist, delivering a delicate balance of familiarity and discovery.
The topic of how to build an audience and sales
 was tackled by Lloyd Madurai, founder and station MD of HOT91.9, Alfie Jay, operations director of Algoa FM and Denver Apollus, head of programming at Heart FM, with the discussion, once again, chaired by Rothschild.
Jay put it succinctly, when he said it is "not a radio station, it is a people business". The importance of understanding people was echoed by all the panellists. From Lloyd's perspective, it was impossible to be all things to all people; it was necessary to identify what you were offering your audience and to remain consistent. In the case of HOT 91.9, the mix of well known on air personalities and Old Skool and R&B music captivates listeners of a certain age.
Apollus also endorsed intimately knowing one's listening community, even to the extent of broadcasting from people's homes. All three panellists were adamant that it is crucial to remain true to one's audience and to the station's values when moving into the event and activation space. Commercial partnerships need to be on point in terms of audience expectations; brand fits cannot be forced. Jay expanded on the idea of radio being a people business further by pointing out the necessity of really knowing one's clients and their businesses, in order to find mutual advantage.
The final SA Radio Legends discussion was led by Kevin Savage, Liberty Radio Awards Hall of Fame inductee, and featured Alex Jay, now a presenter on Jacaranda FM and Tim Modise, CEO and founder of FGP Media. Inevitably, this tended towards reminiscing, although there was some discussion of issues such as how to grow the radio revenue pie.
From what I read of the Award PR releases, that event recognises both the sterling services of the Hall of Fame inductees, as well as the Bright Star Awards. These are conferred on radio people, under 35 years of age, who are making their marks in radio. It was a pity that these voices were not heard at the conference. A dialogue between the experienced stalwarts of the industry and the bright youngsters may have really pointed to a healthy future for the medium.
---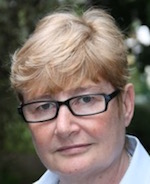 Having spent some decades working in the media agencies, Britta Reid now relishes the opportunity to take an independent perspective on the South African media world, especially during this time of radical research transformation. 
---