The Department of Communications and Digital Technologies (DCDT) has proposed several changes to the country's policy, legislative and regulatory framework, which it says have "become out of tune with the rapid technological developments and the inevitable forces of the 4th Industrial Revolution (4IR)".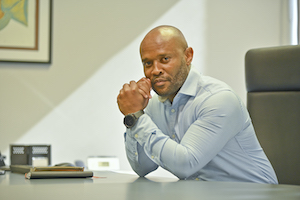 The proposed changes are highlighted in the department's Draft White Paper on Audio and Audiovisual Content Services Policy Framework: A New Vision for South Africa 2020.
The Draft White Paper was published in October 2020, with industry stakeholders taking part in public hearings and presenting submissions in 2021. The process stalled in early 2022, but it is understood that the DCDT has included, as a priority, submitting the Draft White Paper to cabinet for approval in 2023/24.
From the perspective of the radio industry in South Africa, these proposed changes are, in the main, welcome and necessary if we are to see a more sustainable and competitive sector.
Removing limitations on ownership
A key proposal in the Draft White Paper is the removal of limitations on media ownership and control.
The Electronic Communications Act (ECA) currently limits the number of commercial radio and television broadcasting services that an entity can control. While it was arguably necessary at the start of the country's commercialisation of radio, the DCDT notes the provisions were made in 1993 within the context of a predominantly single channel analogue broadcast environment.
A review of ownership limitations is necessary for a variety of important and urgent reasons.
Radio as an industry globally is showing considerable resilience and relevance to its audiences, and radio brands are adept at strengthening these audience relationships via many different channels.
However, the advertising industry is spoilt for choice for media types, and particularly digital media offers high reach into aggregated audiences countrywide.
Offering 'networks' to advertisers
We would argue that radio has an unrivalled ability to deliver campaign results as compared to other media types, but it needs to be able to offer audience 'networks' to advertisers, instead of the audiences of one or two individual station brands.
Thus, the removal of the outdated ownership limitations will enable radio operators to consolidate the market and offer their customers reach that is comparable to the TV and digital operators.
Market consolidation opportunities will also enable more operational synergies in the sector, and this will allow for increased investment into innovation and development of its resources and people.
Radio's reach is consistently above 90%, however, the artificial metric of limiting how many stations a single operator can control has been harmful to growth.
Changes in consumption
We must be mindful that the currently applicable sections of the ECA were adopted during a time when services such as Google Play, Apple Music, and Spotify did not exist, and technology advancements over the years have drastically changed the way audiences consume media.
Digital players are not subject to the high levels of regulation that exist in the traditional sectors, and the largest global players are not even re-investing the revenues they make in our local markets back into our economy.
Traditional players must be allowed to compete on a more level playing field for audiences, advertising, and investment. This requires a legal framework that recognises contemporary market forces and supports growth into the future.
Revenues in the commercial radio market had already started to flatten out prior to Covid-19, indicating a strong but mature stage in its evolution, and now coupled with the notable revenue impact of the pandemic, some urgency is required to introduce these regulatory reforms.
Ownership changes
Globally, several countries have made adjustments to abolish or relax ownership regulations.
America made significant changes to its ownership laws in the Telecommunications Act of 1996. Congress eliminated the national cap on station ownership, allowing unlimited national consolidation.
According to the Federal Communications Commission, the goal of the act was "to let anyone enter any communications business — to let any communications business compete in any market against any other".Changes to Slovakia's legislation in 2021 also removed the limitations on the number of national radio stations one entity could own. Companies could previously own just one.
The ownership changes allowed companies such as Bauer Media Audio to acquire two additional national radio businesses.
"Expanding our presence in Slovakia is great news for our company and for the local market. Growing our operation will enable us bring audio innovations, new formats and passion for great content to more Slovakian listeners," Bauer Media Audio's then-president, Paul Keenan, said in a statement.
Consolidation is key
Simply, the ability to buy multiple radio businesses will allow for growth in the South African market and realise value for shareholders of individual brands who are struggling to sustain their station. Typically, consolidation enables value creation for audiences, for advertisers, for staff, and for shareholders
We have faith that ICASA, the Competition Authorities and relevant B-BBEE guidelines will ensure that the media sector protects and develops diversity and plurality of voices. Likewise, the radio industry has a proud track record of effective self-regulation of content via the excellent Broadcasting Complaints Commission of South Africa (BCCSA).
Funding the SABC
The draft White Paper also seeks to find ways to resolve the ongoing funding issues within the SABC, and this must be seen in parallel with the draft amendments to the SABC Act. As a business with significant interest in the sector, we also welcome these developments.
While the mechanism of securing licence revenues from consumers will always attract controversy, and while we believe the drafts contain some areas of minor concern, it is critical the SABC is adequately funded and competently governed.
It represents a sizeable portion of the South African radio industry and a strong SABC means a strong radio sector overall.
We are encouraged and generally supportive of the proposed White Paper, but it is our hope the government does not falter in seeing these proposals through the appropriate channels.
It is important for the changes to be enacted within this calendar year, if the benefits outlined above are to be realised for owners and consumers alike.

Paballo Makosholo is group chief executive officer at Kagiso Tiso Holdings.
---