The Media Online's weekly column delivering news of award wins, entries, competitions, dates to note and winners in the media.
Marketer of the Year finalists announced
The IMM Institute South Africa (IMM) is pleased to announce the finalists of this year's IMM Marketing Excellence Awards.
The Awards recognise and honour those individuals and teams who have made significant contributions to the marketing industry.
Marketer of the Year: sponsored by IMM Graduate School: Celebrating the individual marketer who has demonstrated excellence in their field.
Alistair Mokoena – Country Director for Google Africa
Chantal Sombonos – van Tonder – CEO of Chicken Licken
Andisa Ntsubane – Managing Executive: Brand, Marketing and Communications Africa for Vodacom Group
Firoze Bhorat – Chief Marketing Officer at Discovery
Emerging Marketer of the Year: sponsored by BrandX: Recognising the rising star in marketing who has shown exceptional promise and potential.
Charles Poulter – Account Director for SWM Communications
Tanya James – Business Owner at The MarketHear
Pat Mahlangu – CEO of 3 organisations: Lerato Agency; Top 16 Youth-Owned Brands Awards; Pat On Brands
Marketing Student of the Year: sponsored by UXi Private Education: Acknowledging the outstanding achievements of marketing students who are the future of our industry.
Dhashika Ramgolam – An Honours student at the IMM Graduate School
Justin Beswick – An Honours student at Vega School
Nico v d Westhuizen – 1st Year student at the IMM Graduate School
Corporate Marketing Team of the Year: sponsored by BrandSA: Honouring the collaborative efforts of a high-performing marketing team within a corporation.
Old Mutual Insure
Deloitte Africa Consulting
Tiger Brands – Albany
Lifetime Achievement: sponsored by SAB (ABINBEV): Celebrating a seasoned professional's lifelong contribution to the field.
This winner will be announced at the Awards Gala Evening.
Irene Gregory, CEO of the IMM Institute and organiser of the event, congratulated all the finalists. "The finalists have received the endorsement of their peers, who have not only acknowledged their outstanding work but also their inspiration to others in the industry to strive for excellence."
Shop! SA rewards shopper marketing excellence at inaugural awards ceremony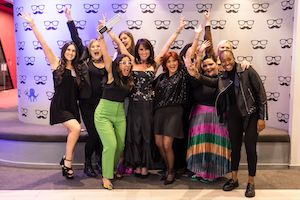 Shop! South Africa, the newly-launched local chapter of the global trade association dedicated to enhancing retail environments and experiences, has announced winners across five categories at its inaugural Shopper Marketing Awards ceremony.
Shop! SA founder and MD Di Wilson says that Shop! exists to further excellence in the shopper environment industry. "Our goals, as Shop! SA, are to upskill participants in this arena, facilitate networking and collaboration, and recognise outstanding achievements. This awards ceremony, our first, celebrates creativity, innovation and excellence in-store, online, and throughout the shopper path to purchase."
Sponsored by Barrows, H&A Online, and Point, the ceremony was held at Johannesburg in Modderfontein, and attended by 120 industry stalwarts. Around the world, the Shop! OSMA Awards are the industry's major annual awards that recognise and reward best practice, innovation, and excellence in shopper marketing.
Wilson says this year's South African entries showcased excellence in retail execution and matched the global standard.  All Gold winners will be automatically entered into the Shop! Global Awards.
The 2023 Shop! SA winners are:
Digital & Experiential Campaign – Liquor
Gold: SAB WiFi X (Barrows)
Digital & Experiential Campaign – Health & Beauty
Gold: Digital Training in Retail Environment (Smart Media)
Digital & Experiential Campaign – Formal Grocery
Silver: RCL Chickees (Hyphen Creatives)
Digital Campaign
Silver: Voice of Makro (Iconic Collective)
Gold: Avon Influencer (Brand Influence)
Grocery Shopper Marketing – Non-food
Silver: BIC Major Back to School (Integer\Hotspot)
Gold: Makro Black Friday (Iconic Collective)
Grocery Shopper Marketing – Food
Bronze: Doritos Xbox (PepsiCo; Magical)
Silver: Jacobs Aroma (Tradeway Promotions)
Gold: Doritos PlayStation (Hewitt & Associates)
In-store Display & Point of Sale – Temporary
Bronze: FLM Marvel FSU (Xanita)
Silver: Douwe Egberts Innovation Design (Hyphen Creatives)
In-store Display & Point of Sale – Permanent
Silver: L'Oreal Clicks Beauty (Barrows)
Silver: TOPS Occasion Based (Barrows)
Gold: LiveKindly Plant-based Hub (Barrows)
In-store Display & Point of Sale – Liquor
Silver: Savanna Bespoke Unit (Integer\Hotspot)
Silver: Buffalo Trace (Hewitt & Associates)
Gold: Makro Whiskey Experience (VF!)
In-store Display & Point of Sale – Health & Beauty
Bronze: Smart Grab and Go (Smart Media)
Silver: Smart Q and Shop (Smart Media)
Gold: Personal Care aisle Reinvention Gold (Barrows)
"We're absolutely thrilled to announce our winners," says Wilson. "Individually and collectively, they represent the future of shopper marketing in South Africa."
Meet the Top 3 Womenpreneur Her Perfect Pitch Winners Powered by Jacaranda FM and Access Bank South Africa
fter an extraordinary display of creativity and economic prowess by a multitude of enterprising women, the unveiling of the triumphant Top 3 powerhouse women has finally arrived. These remarkable winners captivated the judges and left an indelible mark on the competition, each taking away their share of prize money and mentorship worth over R1 million:
Winner of the 2023 Womenpreneur – Her Perfect Pitch is: Morongwe Mokone:Mo's Crib.
Morongwe Mokone launched Mo's Crib with a profound dedication to sustainability that permeates every aspect of the brand. Prioritizing fair wages and safe working conditions for local artisans through ethical sourcing practices, they foster a strong sense of community and empowerment.
Second Place: Faith Mokgalaka:Puno Pioneering.
Faith Makgolele's Puno is a pioneering platform that integrates technology and agriculture, providing crowd-investments and insurance to marginalised smallholder farmers across Africa. With 33 million farmers seeking financial aid, Puno's distinctive approach serves as a vital financial ally, fostering food security and transformative change.
Third place: Hlobisile Yende: The Yende and Partners
Hlobisile Yende, a third-generation farmer following her family's legacy, was driven into agriculture by its role in financing her education, leading her to pursue a master's degree and formalise her enterprise for future sustainability. She actively engages in the Corteva Women in Agriculture program, emphasising the importance of leaving a lasting legacy. Adapting to water scarcity, she introduced rain fed butternuts, yielding 40 tons from a successful one-hectare trial, demonstrating the potential for sustainable growth. Her business ethos centres on addressing agricultural gaps, prioritising expansion, food security, and empowerment, especially for aspiring female farmers, while recognising her farm's contribution to national food security.
Jacaranda FM Managing Director Deirdre King said, "These women are pioneers, changing the economic landscape whilst uplifting other women and that's exactly what this competition is about."
HOT 102.7FM wins coveted 'Best of Joburg' award for Second Year Running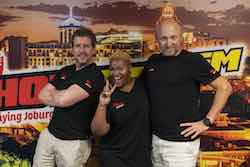 The hits just keep on coming for Johannesburg's newest commercial radio station – HOT 102.7FM– and that's not just the best 'Old Skool' music the station has become famous for.
Just over two years after first going live, HOT 102.7FM has for the second consecutive year been named the winner in the 'Best Local Radio Station' category at the Best of Joburg Readers' Choice Awards – capping another outstanding year on air, which has also included a host of nominations at the SA Radio Awards and being honoured at the prestigious New York Festivals Radio Awards – the 'Oscars of the radio industry'.
On top of that, the HOT 1027 Breakfast – hosted by Simon Parkinson, Bunny Majaja, and Simon Hill – has been named the 'Best Radio Show' in the Best of Joburg Readers' Choice Awards, just five months after launching on HOT 102.7FM.
All of this just days after HOT 102.7FM raised an incredible R19.4 million at its annual Teddython charity fundraiser.
"This just caps an incredible week for the station," said Lloyd Madurai, Managing Director of HOT 102.7FM. "When we launched in July of 2021, we set out to deliver music and content that we felt would appeal to a particular audience, with the overall goal of being Joburg's radio station of choice, and this award goes a long way to HOT 102.7FM achieving that goal."
APO Group's success at the world's most prestigious Public Relations Awards is a win for Africa
APO Group, the Pan-African communications consultancy and press release distribution service, has been shortlisted for a PRovoke Media Global SABRE Award for its successful Public Relations campaign with international NGO Mercy Ships.
The SABRE Awards are the most prestigious and important awards in the Public Relations industry due to their global reach and comprehensive coverage of diverse PR disciplines. Each year, thousands of campaigns are evaluated by a jury of industry leaders, with the most compelling selected as regional winners for the Americas, EMEA (Europe, Middle East, and Africa), and Asia-Pacific. The very best of these winning campaigns are then put forward for the Global SABRE Awards to find the truly elite in international PR.
Having already won an African SABRE Award in May, the Mercy Ships campaign was one of just 40 selected out of more than 5,500 entries submitted to the Global SABRE Awards competition. The ceremony to celebrate the 'best of the best' will take place at The Hotel Washington in Washington, D.C. from November 6-8 2023.
APO Group's Mercy Ships campaign is the only nominee managed by a wholly African-owned agency, and the fact that it has been selected alongside campaigns from some of the most prominent PR agencies in the world is a testament to African storytelling.
How the winners of South Africa's sustainable fashion world are wowing us now!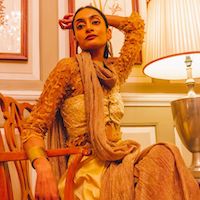 Stars of circularity, the ever-so-talented Katherine-Mary Pichulik, Cleo Droomer and Shamyra Moodley are among the line-up of winners at last year's Twyg Sustainable Fashion Awards who have accomplished some impressive feats since then. Almost a year later, let's take a look at what these progressive, conscious fashionistas have been up to…
"The past year has really been about thinking and dreaming into new ways of making, especially within my immediate communities," says Cleo Droomer, who has continued his exploration of zero-waste textile pieces. "I've been exploring new projects and ideas, and I'm excited to be working with key partners who support me and my work to bring these ideas to life," he says. Alongside many other recent creative projects, Droomer created a patchwork dress with historical details for Aaniyah Martin, founder of The Beach Co-op, for the One Blue Heart zero-waste gala dinner in Cape Town in February 2023.
LaaniRaani, also known as Shamyra Moodley, was the winner of the Nicholas Coutts Award, which honours the late designer Nicolas Coutts. The award is presented to a designer who uses artisanal craft techniques such as weaving, embroidery or botanical dyeing to make fashion that foregrounds, celebrates and values the skills of the people who make the garments. She's been on a whirlwind fashion adventure over the past few months, showcasing her work in Paris and Milan, and being selected as one of Design Indaba's Emerging Creatives for 2023.
The Twyg Sustainable Fashion Awards offer a much-needed platform for South African creatives, says Katherine-Mary Pichulik, the founder and creative director of Cape Town-based accessories brand Pichulik that took home the Accessories Award in 2022. Pichulik's handcrafted sculptural jewellery is exported across the globe and is regularly featured in international fashion magazines such as Vogue.
Ten designers and brands will be recognised for their implementation of sustainable, ethical, circular and regenerative design across an array of categories, including Accessories, Innovative Design and Materials, Footwear, Farm-To-Fashion, Social Impact, Emerging Designer, Retail, Tastemaker and Trans-seasonal Design, plus the Nicholas Coutts Award. The overall prize, the Changemaker Award (presented this year by The Foschini Group), with a R100 000 prize, is presented to a designer whose career has embraced sustainable and circular design practices.
This year, sponsors are The Foschini Group for the Changemaker Award category, plus the V&A Waterfront, Polo South Africa, SKYY Vodka, Pantone Sundays and Country Road, while partners include Cape Wools SA and the British Council's #SouthernAfricaArts.
---