It was 1995 all over again. A day that will go down in history. One of those: "Where were you when…" stories. #Bokke broke all boundaries and won the world cup for the fourth time, the first nation to do so and again by one point.
That's the third game where they showed us how just one counts. A lesson to us all, each one of us a contributor to this country, each one of us counts. Where was I? Well, my mom took that "break a leg" idiom seriously.
I'm Tonya Khoury, a proud South African and an even prouder daughter.
Let me tell you a story about #TheGoose. Firstly, the name is a term of endearment, a nickname for my ma. Saturday morning, just after midnight, I found my mom on the floor with her leg lying beside her. Long story short she'd broken it in two places, and she is now officially at that stage of life where we've surpassed the #ElderlyFall.
By 4am Mom was in the ward and the news was revealed. She would need to undergo an op. Broken in two places. Needs special parts. Surgery will take three hours. Three-month recovery. All these sentences flew by me as I just hoped and prayed that she'd make it through.
My story was not unlike every South African's story on that Saturday. The nation was praying we'd make it through the night ahead.
#TheGoose is tough, like the #Bokke. She is filled with great tenacity, like #GroenKant. She's cool like #Faf. Full of personality like the whole #SpringbokTeam. She always has the best of intentions and a jolly good sense of humour. And that is all of South Africa isn't it?
The Goose not only made it all the way but 24 hours after the operation, she took her first steps. Yesterday she walked to the bathroom, twice, on her own, while rocking a moon boot. Not only that, but she's come back stronger. She lost the shakes. Her hands are rock steady. She's come off a ton of really bad medications.
Stronger together
All in all, my mom aced the #ElderlyFall and neither of us saw the game, but there was a match before my eyes and mom won like the champion she is. She may be spending her birthday in a hospital bed, but my goodness she got some serious birthday presents. #StrongerMother.
And then there was you guys. As I hit day two without sleep, I saw South Africa from a distance proving what I already knew. We are the most incredible nation. We are really invincible if we leave politics at the door. Record breakers and peace makers, the #Bokke lifted us up like a trophy to Siya's lips.
Siya's words warmed every heart in our #Kantry: "People who are not from South Africa don't understand what it means for our country. It is not just about the game. Our country goes through such a lot. We are just grateful that we can be here.
I want to tell the people of South Africa 'thank you so much. This team just shows what you can do. As soon as we work together, all is possible, no matter in what sphere – in the field, in offices, it shows what we can do. I am grateful for this team, I am so proud of it." #GooseFlesh!
With 300k posts in South Africa alone and 2.2 million engagements there is no doubt this was the biggest story in South Africa and it was only rivalled by the war on Gaza across international platforms. The two largest stories are filled with hope but could not be more different.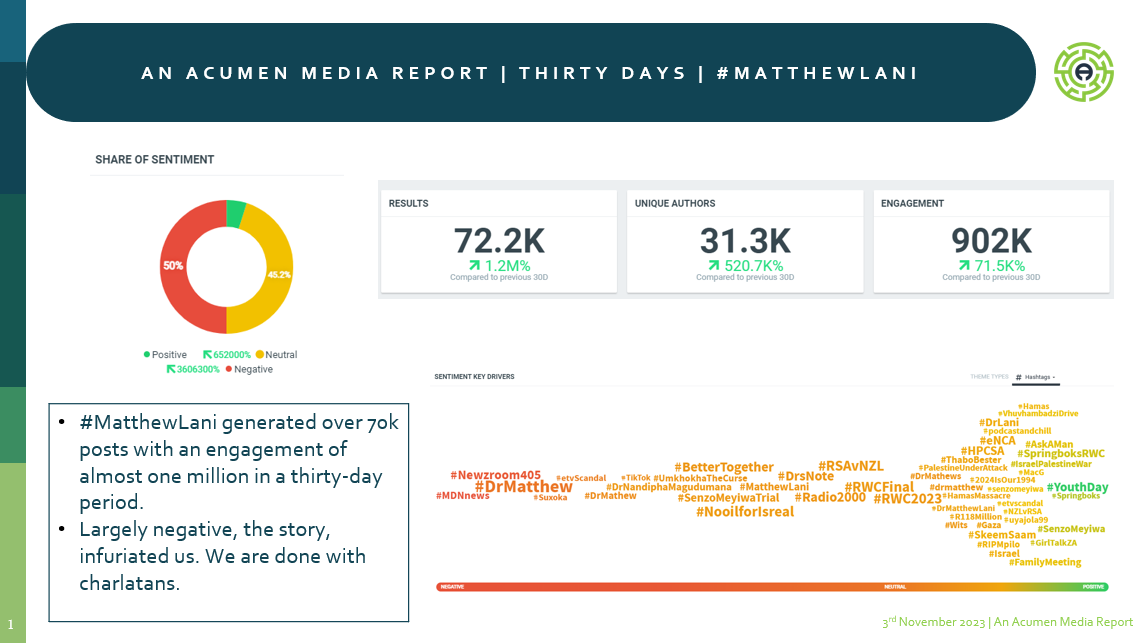 Trophy tour
Today we're watching the #Bokke make their tour across the country as South Africans squeeze every last moment out of the victory on screen and the sensation of being #StrongerTogether. There have been so many spin offs and clever brand plays on the win.
#EskomSePush toyed with changing their name to #EskomSeKant and Spur brought out a cracker of a breakfast with an all #FrenchFries as part of your #EnglishBreakfast and topped off with an #AllBlackCoffee. So clever. All we need now is one good leader and this country will be fine. Faced with adversity we will triumph against it, just like my Goose.
You'll forgive me if I've missed a big story or if I'm not quite as funny as I should be, it's been quite a week.
There was the Mid-Term Budget Speech #MTBS. It turns out we're about R57 billion in the hole. Last week I told you that R50 odd billion was stolen from #NSFAS. So, I'm not sure what the problem is. Apparently #Eskom only needs R25 billion, that's half of the money that should be recovered from #NSFAS thieves.
Please, Imtiaz
That's sorted then. Don't you dare touch me on my studio. No further taxes, we are tax strapped and we cannot give anymore. R350 is not a living wage and it really is time for a new leader. Excuse me, #ImtiazSuliman, we are begging you, just cast everyone out and take your team in and start. Please we're asking nicely, in fact we're begging, we are a nation begging to be led. Please stand up, a non-politician, please rise on a moon boot and take us to victory one slow step at a time. We are ready. #Elections2024
Another thing they have here in Richard's Bay, the town that has been our hosts during mom's recovery, is great doctors. I mean seriously great doctors. It is incredible how much they care and that care itself has been sublime.
There is no Doctor #MatthewLani here. The bogus doctor kept our timelines busy as he was arrested and let go without charge. Apparently lying is not a crime, even if you are impersonating a medical professional and selling pills under your brand.
I watched #Lani play the victim as he said he is just so happy to be going home. You, my friend, shouldn't be going home, you are exactly who we don't need to go home. Impersonators become perpetrators. He is my case study with over 72k mentions in a month and almost one million engagements. He certainly became notorious and doesn't have a single qualification. #DoctorImposter
Moving swiftly along
Swiftly now, #Transnet is about to be privatised, #Joburg scored a two-hour a day #Loadshedding deal, #Eskom has decided it needs a new logo, I'm not kidding. #DeRuyter got a seven-million-rand bonus, I'm still not kidding. We're apparently extraditing the #guptas (ha if you believe that you're naïve). #Zuma's protesting in court has got us all yawning. There's a new witness in the #SenzoTrial. #Phakeng caused so much havoc at #UCT that you'd swear it was #Halloween (oh ya it was).
#Matrics are sitting their last exams, strange how we have electricity for the #Bokke but not for the #MatricExams. Crazy hey? #BlackFriday is here, and you'll spend money you don't have. #Paedophile and #PreacherMan #Omotoso lost his mistrial request. #MarcusJooste is digging his heels in and won't pay that 15bar fine. I can't believe that one. I mean that's lunch money for him. Paralympian #ZaneleSitu passed away. The #Proteas stormed to victory and the best news for me, #fishpaste and #Redro are coming back to South Africa.
Across the borders, it's not very good my friends. In the #Congo there is a genocide we haven't even been told about. Millions have been displaced and millions have been killed. Forty-eight women are raped every hour and we don't even know.  Further north millions of Afghanistans have been told to leave #Pakistan within a couple of weeks, the impossible task scripted into law.
And then #Gaza. #Netanyahu came out to quote scriptures saying: "Now go and smite Amalek, and utterly destroy all that they have and spare them not: but slay both man and woman, infant and suckling, ox, sheep, camel and all."
Collateral damage
And that was the most revolting thing I've ever read or heard. How did we possibly get another Hitler? I thought we said never again. Wasn't that what we said? One bomb this week displaced 100 000 people, and no one knows the death toll as #Jabalia refugee camp became a pile of rubble and a massacre.
Israel is arming civilians, and the next stage of war has started as they move into the tunnels under #Gaza still claiming to be after terrorists. The Israeli hostages from within #Gaza begged, no screamed, for their release but as much as Biden plays lip service to them, they are nothing but pawns and collateral damage.
Just look around at the world, most countries have found their voice through the civilians as protests flared up across the world shouting to #FreePalestine. There's an apocalyptic feel that you just can't shake. Is this it good people? Is doomsday on its way?
And then, #MatthewPerry died in his jacuzzi. Known to many as #Chandler from the sitcom Friends, our hearts went out to a man who made it clear that he struggled with addiction and depression, we watched you fight #MattMan and we pray you're at peace now. Thank you for all the laughs and for being an integral part of our youth. Rest easy this weekend #Mattman is looking over us.
I'm Tonya Khoury and thank you for scratching the surface with me on a very busy week.
---