Early on Sunday morning, as millions of South Africans basked in the babelaas of the whisker-thin victory of the Boks over England, a Nando's ad began doing the rounds on Facebook, Twitter, TikTok, and WhatsApp.
"Full English Breakfast," it announced, "for only R16.15!"
Thus crowing over the final score, the ad quickly went viral, with many a commenter cheering Nando's for yet another fine example of its trademark cocky social and political commentary.
Except, of course, this wasn't an actual Nando's ad. It was a fan-made Nando's ad — a Fando's ad, as I like to call them — of the type that pop up on social media after almost any event of national significance.
These ads, which affectionately mimic the Nando's satirical style, are a form of unofficial brand communication that I believe is unique to South Africa.
Ad virality
Typically, for obvious legal reasons, the crafters of these home-crafted ads choose to remain anonymous.
But I can today reveal, as we journalistic types are fond of saying, that the crafter of "Full English Breakfast" is Ingrid Stegmann (IS Mann), a publishing consultant and project manager based in Pretoria.
After seeing my post on the Fando's phenomenon on Twitter, Ingrid messaged me to say how surprised and delighted she was by the virality of her ad, which has been shared by Bok-supporters at home and all around the world.


It all began with a poll Ingrid posted on Twitter, just before midnight on Saturday.
"What are you having for breakfast tomorrow?" she asked her followers, tabling the options as English Breakfast, Biltong and droëwors, Kiwi Fruit; and French Toast.
English Breakfast won by a significantly wider margin than the Boks had won, so Ingrid got to work, using the design app, Canva.
She wasn't able to find a typeface close to the Nando's proprietary typeface, Nando's Hand — that's always the give-away of a fan-made ad — so she used a playful Sans Serif Bold and posted her ad to Twitter at 1.30am.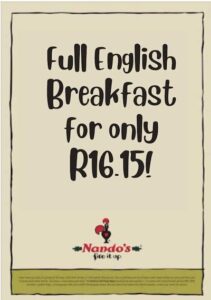 She tagged Nando's SA and Nando's UK (Nando's is so popular in the UK, that the brand has almost become a generic for fast food) and then she got cold feet and deleted her tweet.
"I was worried that maybe Nando's will sue me," says Ingrid, "but it was too late. The thing caught fire."
She needn't have worried. To the best of my knowledge, Nando's has never issued a cease-and-desist for a fan-made ad, which tells us either that they quietly tolerate the modification of their intellectual property, or that their lawyers have bigger chickens to fry.
"I think humour and wit are what Nando's are known for," says Ingrid, "and we South Africans are always quick with a joke."
The irony, she adds, is that she has never eaten a Nando's. "But I hear it is very good."
Thank you for sharing your story with me, Ingrid, and I look forward to your Kiwi-fruit-flavoured Nando's ad on Sunday morning!
Gus Silber plays with words, and sometimes work with them too, as a Journalist/Author/Scriptwriter/Speechwriter/TweetWriter. Journalism, Social Media, and ChatGPT Trainer. Master of Arts in Journalism and Media Studies, With Distinction, from Rhodes University.
---