The Media Online's weekly round up of people, account and business moves in media.
This week's BIG move: TikTok and Ad Dynamo by Aleph announce strategic cooperation in the South African market
Ad Dynamo is a subsidiary of the Aleph Group, Inc – an ecosystem of global digital experts and technology-driven solutions that connects thousands of advertisers with billions of consumers worldwide – and TikTok, the leading destination for short-form mobile video, will embark on a new partnership in South Africa.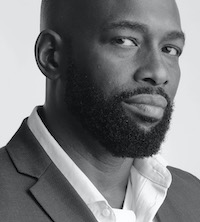 In South Africa, Ad Dynamo by Aleph's global advertising expertise and dedicated local media representation teams combine to deliver brand and performance based advertising solutions. As part of the new sales agreement, Ad Dynamo by Aleph will enable medium-sized enterprises in South Africa to authentically engage their consumers, while delivering on TikTok's mission to inspire creativity and bring joy.
"Medium-sized enterprises play a key role in growing South Africa's economy. At Ad Dynamo by Aleph, we are very happy to support, educate and grow enterprises and entrepreneurs through TikTok's innovative advertising solutions. Thanks to our global cross-border  payment and credit underwriting unit, Aleph Payments, we enable businesses to grow across Africa and remove complexities in financial transactions," said Stephen Newton, managing director of Aleph in Sub-Saharan Africa.
"Businesses are a critical part of communities — on TikTok and around the globe. Using TikTok's creative solutions, businesses are able to take new creative approaches to their marketing strategies, expand their audience and achieve business goals. We're confident that together with Aleph we can enable medium-sized enterprises in their growth objectives," said Jochen Bischoff, head of Global Business Solutions, Africa, TikTok.
People moves
Tarryn Lamb Joins Kfm 94.5's The Flash Drive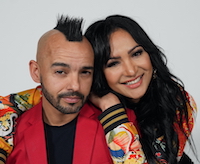 Kfm 94.5 has announced that Tarryn Lamb will be joining The Flash Drive team from Monday, 2 October. The musician and SAFTA Award-winning actress will be joining Carl Wastie on the popular drive-time show.
Lamb is a born and bred Capetonian, with a deep love for the city and the Western Cape. She has had a successful solo career and has previously fronted bands such as Blackbyrd and La Vuvuzela. She has also featured on popular TV shows such as Suidooster and Binnelanders, and is currently a mentor on Die Kontrak.
"I'm so excited to be joining the amazing Carl Wastie on the Flash Drive on your drive home! Kfm 94.5, a massive thank you for the warm welcome, the amazing support and love that I have received from the team. Here's to us making more magic on the airwaves," said Tarryn.
Hennie Myburgh, Kfm 94.5 station manager, said he was thrilled to have a talent such as Lamb join the Kfm 94.5 stable. "As Kfm 94.5 entrenches itself as the #1 choice across the Western Cape, we are always looking at bringing new and exciting changes to the station to surprise and delight all our listeners and commercial partners. Tarryn brings a fresh approach to the team, and joining the Kfm 94.5 team strengthens our position in serving our listeners and continuing to innovate and entertain."
DFMI Business Lab participants announced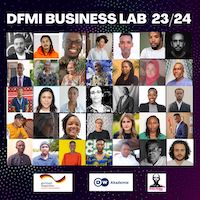 After receiving a record number of applications for the third edition of the DFMI Business Lab, the Durban FilmMart Institute has announced 35 participants from 22 countries across the continent.
"The Lab is now in its third year. We would like to thank DW Akademie for their continued investment into capacity-building on the African continent," saidMagdalene Reddy, director of DFMI.
"In addition to providing filmmakers with the expertise to expand their film career, the lab has created a sense of community between the producers inviting them into a peer-to-peer support system where they are free to share opportunities and learnings as they engage in the film industry."
The Lab will focus on modules such as Financial management, Business management, Intellectual Property and Entertainment Law, Distribution, and coproduction led by film and creative industry professionals from Burkina Faso, Canada, France, Kenya, South Africa, and the USA.
DFMI Business Lab participants:
Abdifatah Abdi  (Somalia)
Boi Beatrice Kenneh (Sierra Leone)
Boris Fredy Agblo (Benin)
Chelsea Art (South Africa)
Doreen R. Kilimbe (Tanzania)
Duwayne Murphy (South Africa)
Emil Garuba (Nigeria)
Faith Riyano (Zimbabwe)
Faye Binetou (Senegal)
François Maree (South Africa)
Ghislaine Kanga (Ivory Coast)
Gopalen Parthiben Chellapermal (Mauritius)
Habtamu Mekonen (Ethiopia)
Ian Tarimo (Tanzania)
Ibtissem Labidi  (Tunisia)
Khangelani Mtyhalela (South Africa)
Khanyisile Zondi (South Africa)
Lauren  Scholtz (South Africa)
Limbani Maxwell Teputepu (Malawi)
Madelize De Lange (South Africa)
Manar El-Zohery (Egypt)
Muhammad Taymour (Egypt)
Muhannad Lamin (Libya)
Naseeba Bagalaaliwo (Uganda)
Ndumiso Gumede (South Africa)
Nduruka Njoroge (Kenya)
Omoyefe Majoroh (Nigeria)
Oueslati Ager (Algeria)
Oularé  Momo (Guinea)
Paul Wilo (Zambia)
Pingdewinde Tiemtore (Burkina Faso)
Rugare Ponde   (Zimbabwe)
Sally Ngoiri (Kenya)
Timilehin Adewoye (Nigeria)
Zineb Chafchaouni Moussaoui (Morocco)
Business moves
HELM, Africa's CX innovation experts, evolves into employee-owned company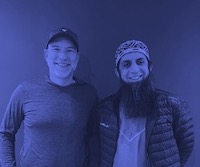 Helm has announced its employee ownership plan, rewarding key staff with a significant stake in the business. This marks a momentous shift in their ownership structure as Helm evolves into a staff-owned company.
The senior management team – affectionately known as HelmCo – holds the majority of the stake, allowing them to actively participate in decision-making processes while driving the strategy, vision, and long-term growth of the company.
Along with Helm CEO, Dawood Patel, other major shareholders include Awande Capital founder and former Trudon CEO, Thabo Seopa, and company founder, Gustav Praekelt, after whom the company was named prior to its rebrand to Helm.
One of the reasons for the rebrand was to mark the new ownership structure, which also saw Praekelt's role shift to a non-executive capacity. Although he is no longer involved in the business on an operational level, the ownership plan brings to life his long-standing vision of a staff-owned company.
Praekelt said, "We've always wanted to be a different type of business – one that is owned by the very people who contribute to its strategy and success every single day. Our employees have been a part of our past and present, and will remain a more significant part of our future."
Next iteration of MAPS to be released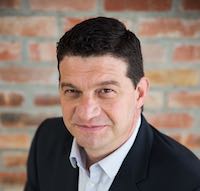 The Marketing Research Foundation's (MRF) has announced that the latest iteration of MAPS™ (Marketing All Product Survey), with fieldwork from April 2022 to March 2023, will be available as from Monday, 2 October 2023.
The MRF's CEO, Johann Koster said, "The upcoming data release will provide insights into consumer behaviour and spending patterns from the first quarter of 2023. It will be interesting to see data from this year coming through."
The impacts of recent global events on consumers are evident in quarterly consumer data. Trends that emerged during Covid-19 and ongoing economic pressures continue to shape how consumer behaviour evolves in the face of uncertainty. The data reveals changes in product consumption and spending patterns.
"MAPS is an invaluable strategic marketing tool for today's dynamic landscape," said Koster. "With its wealth of insights into an ever-evolving consumer, MAPS empowers marketers and agencies to make smart, data-driven decisions. We eagerly anticipate the release of the newest MAPS data, which will reveal the latest shifts in consumer trends as the research continues to progress. These timely insights will allow us to identify and respond to changes in the market."
For additional information on MAPS – http://mrfsa.org.za/maps/
Trading made clear: OctaFX becomes Octa, launches global campaign
The international broker OctaFX recently announced the decision to change its name to Octa. The broker launched a global promotion campaign with the motto 'Trading made clear' to amplify the message behind the transformation.
"As the financial landscape evolves, so do we," the Octa press office commented. "Our clients' needs continue to diversify, and that is why we have significantly expanded our offerings over the past few years. We feel that we have outgrown the 'FX' in our name and are ready to go further, with a versatile collection of financial instruments we offer for trading now including commodities, stock indices, stocks, and cryptocurrencies."
Another reason for the campaign launch was the company's continued focus on making trading accessible and easy-to-learn for everyone.
 Making moves
Bokomo delivers memories of home – to Saffas in the UK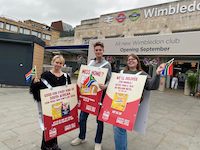 With over 300 000 Saffas proudly calling the United Kingdom home, it's no secret that living abroad comes with its share of longing for the taste of home. Whether it's the braais, the warm sun or even iconic South African brands…
Bokomo, the beloved South Africa cereal brand, has been bringing the taste of home to South Africans for generations and has become a beloved household name, both in South Africa and among South Africans living abroad.
This Heritage Day, when Saffas celebrate the rich tapestry of South African culture in their home country, Bokomo reached out to its extended family living across the seas by making sure to start their day in a truly South African way – with their favourite cereal.
Bokomo marketing manager Diyaana Allie says: "We are celebrating our diverse community of South Africans living in the UK. We want to ensure that they can relive the tastes and memories of home and by delivering our cereal for free, we hope to add a sprinkle of South African joy to their day."
For one day only, on Heritage Day, Bokomo delivered a delicious taste of South Africa to the doorsteps of South Africans – for free.
 Allie added: "At Bokomo, we understand the deep connection South Africans have with their homeland and we recognise the importance of maintaining those cultural ties, especially on Heritage Day. That's why we're thrilled to bring the flavour of South Africa to the UK this year. Our aim is to provide a taste of home, a moment of nostalgia and a sense of togetherness for our fellow Saffas living abroad."
SPAR Inland launches #SpreadSmiles campaign to spread kindness 
With a firm belief that everyone could use a little kindness right now, SPAR is leveraging the power of social media to create a wave of positivity with #SpreadSmiles – a unique initiative aimed at promoting goodwill to support vital causes and positive community changes.
Until 25 October, by simply sharing a video that brings happiness and positivity to others, individuals can contribute to education, nutrition, and women's empowerment initiatives, making a valuable impact on the lives of those who need it most – all while standing to win weekly prizes.
"In a world that often seems filled with challenges and uncertainties, we want to spread a little love and bring smiles to people's faces", said Maxine D'Amico, promotions and advertising manager at SPAR Inland. "At a time when the need for connection and empathy has never been greater, SPAR's #SpreadSmiles is more than just a hashtag; it's a call to action that aims to uplift communities and support those in need".
Simply search #SpreadSmiles on TikTok, Instagram, Facebook and Twitter, to see how the SPAR Inland Smile Squad is spreading joy and positivity all over socials and all across the country – and then get involved.
Upload your video to any social channel, hashtag your favourite SPAR store (for example #SPARFerndale, #SUPERSPARDiepsloot), and use#SpreadSmiles.
For every time the hashtag #SpreadSmiles is used alongside a video that shows how the participant brings a smile to the face of another, SPAR Inland will donate R10 (per hashtag) to each of four worthy organisations – The Smile Foundation, Susters For Life, READ Educational Trust and Meals on Wheels – to help them address core social issues surrounding education, nutrition, and women empowerment.
Editorial Judgment: Ethical content sharing, sourcing, and newswires
The media in South Africa faces many challenges and it is working to remain independent and provide professional and robust journalism operating in an environment where trust in the media globally is being eroded.
The Thomson Reuters Foundation is offering a one-day intensive workshop considering how to build trust, strengthen sourcing, and provide best practice for content sharing and news wire content. The course will ask participants to consider reporting scenarios and join discussions and exercises aimed at underlining the importance of accurate reporting, sourcing, content sharing and coping with ethical problems as well as avoiding media capture.
It is designed to enhance editorial judgment in the choice of newswire pictures, text, and other media and in newsroom management.
Dates:                            11 October 2023
Location:                        Johannesburg, South Africa
Application deadline:     24 September
TRF's new training curriculum offers the most relevant topics in working with newswire content in relation to media capture. The training will take a solutions journalism approach to provide a new method to break down and report on this complex topic.
Participants will learn about the ethics of working with newswire content, ethical decision making and avoid media capture pitfalls.
There will be discussions on the ethics, risks, and legal dangers of media capture in relation to newswire content and training on how to interact ethically
TRF's world-class trainers, who are experienced international and regional journalists, will facilitate the in-person training.
HOT 102.7FM & Silverstar Casino prioritise education with School Study Camp Support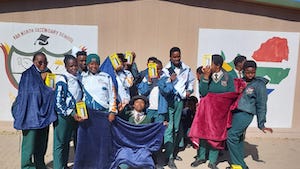 Silverstar Casino and HOT 102.7FM through Hot Cares have helped shine a spotlight on the importance of education and the support some of the sector's trailblazers need, through their latest contribution in the Silverstar Pays It Forward campaign.
This campaign is being rolled out in partnership with HOT 102.7FM and HOT Cares, and it calls for nominations, for deserving individuals, initiatives or organizations that "could do with some help".
Every Wednesday on HOT 102.7FM's flagship show, the HOT 1027 Breakfast, a life – or lives – are being changed, and one of the stories recently concerned Far North Secondary School, which mostly serves underprivileged students from Zandspruit informal settlement and the surrounding areas. The school consistently punches above its weight, largely thanks to its dedicated teachers and visionary principal.
The camp runs until the end of September and the goal is to prepare students for their prelim exams, giving them every opportunity to achieve their best National Senior Certificate results possible.
"We hope this will ease some of the challenges of hosting all the students and we wish the matriculants all the best for their upcoming exams!" said Carmen Rocha, managing director of Hot Cares.
Those looking to nominate an individual, initiative or organization that could do with some help, as part of the Silverstar Pays It Forward campaign, can send an email to info@hotcares.co.za.
---