SCOPEN research has revealed South Africa's top three marketing professionals. They are Khensani Nobanda, Nedbank; Sydney Mbhele, ABSA and Vaughan Croeser, ABInBev.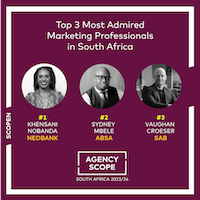 President and CEO of SCOPEN International, Cesar Vacchiano, said: "My congratulations go to Khensani, Sydney and Vaughan, along with the rest of the top 10 marketing professionals we will be naming soon. While accolades from industry bodies are always welcome, there's little to beat a jury of your peers naming you their top-rated professionals."
Vacchiano said the excitement for the 23/24 AGENCY SCOPE results has been more than heartening to note, with 315 marketers interviewed, representing 220 brands compared to 235 interviews across 158 brands in 2021 – a marked increase in participation.
He added that the 200 agency professionals interviewed, comprising 155 creative and 45 media agencies along with 16 media owners solidifies AGENCY SCOPE as "among the most valuable data for all sectors of our industry".
During his time in South Africa, Vacchiano will be presenting the confidential reports to subscribing agencies, giving local and global insights into what the country's top marketers really think about a number of issues and how this drives industry change and growth.
Information included in AGENCY SCOPE 23-24 covers companies noted for their marketing initiatives, and campaigns that achieved peer recognition, including best marketing campaign as well as best agency to work for and most ideal client to work with.
He said, "In naming the most admired marketing professionals as rated by both marketer and agency professionals, I must highlight that this was entirely spontaneous, with no prompting whatsoever from researchers."
---