[PRESS OFFICE] With a combined total of 267 digital advertising screens across seven provinces nationally, and an astounding 759 square meters of Digital Impact assets in 14 shopping malls across key metropolitan areas of South Africa, Primedia Malls has successfully launched an extended Digital Impact network.
This offers advertisers an increased opportunity to reach shoppers when they are in a buying state of mind within the shopping environment.
With advertising rights to more than 45 key mall locations across South Africa, Primedia Malls is able to position brands in an impactful and scalable manner to the right audience at the right time in the ideal environment that is conducive to purchasing decisions.
Advertisers now have an added benefit of high visual presence across Primedia Malls' increased network of Digital Impact assets, offering brands large digital display in the mall environment. 36 impactful LED screens across 9 malls have been added to the Digital Impact holding over this past year, amounting to a total of 62 LED screens across 19 malls in South Africa.
The large-scale creative canvas of each screen has been flawlessly engineered to fit within the mall environment, offering advertisers the most perfect platform to deliver messaging to the shopper audience within the path to purchase.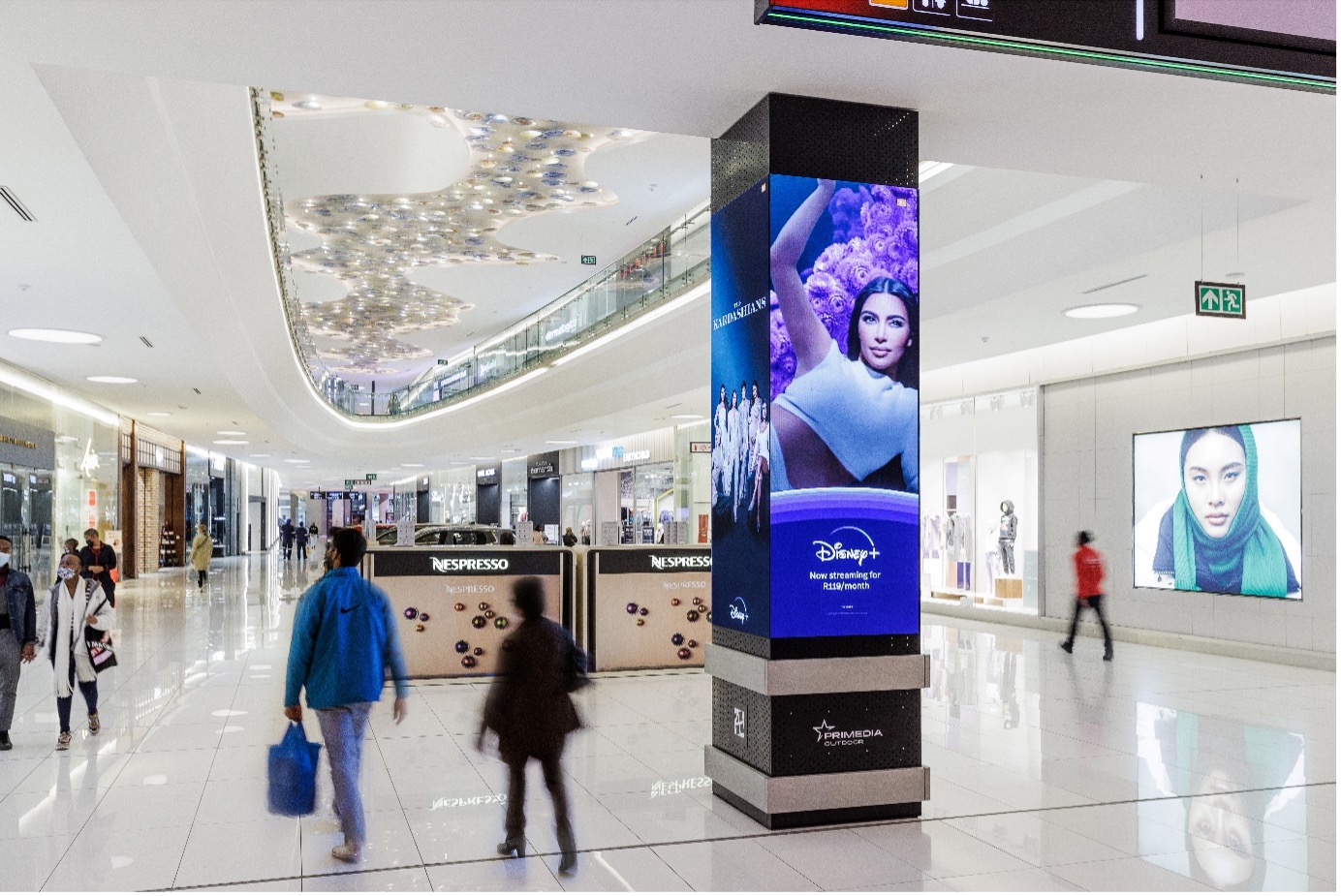 The entire network delivers a total average monthly foot count of more than 12.5 million (SACSC) across all key shopping malls with Digital Impact assets and offers advertisers the opportunity of reaching a mixed spectrum of shoppers across different markets in South Africa. The Digital Impact LED screens are strategically placed to offer maximum impact and optimal reach in high traffic locations throughout the shopping centre.
In addition, Primedia Malls welcomes the introduction of a permanent anamorphic screen, in the first quarter of 2023.  Anamorphic content has the power to transcend advertisers brand messaging as it gives the illusion of dynamic, moving imagery that appears to pop out of the very screen it lives in. Anamorphic display can create a more memorable experience amongst shoppers which in turn delivers greater audience attention.
"We are elated with the expansion of our Digi Impact foot print as it affirms our position as the leaders in connecting brands with the shopper audience in a captivating environment where buying decisions are made" said Trust Masarirambi, National Sales Manager: Media & Activation at Primedia Malls.
"Increasing our mall Digital Impact holding has added substantial value to our mall Digital offering in its entirety, and we are grateful to the various landlords for partnering with us and allowing us the opportunity to install the new assets and extending our advertisers reach and impact", said Danie van Aswegen, Rights and Development Executive at Primedia Malls.
The entire Digital Impact network is fully equipped with a wide range of dynamic capabilities that allow for online and offline collaboration which enhances multichannel campaigns for advertisers.
About Primedia Malls
Primedia Malls, South Africa's leading mall experts seamlessly connect brands to shoppers, through smart media and shopper marketing solutions with their unmatched bouquet of service offerings, all under one roof.
Primedia Malls forward thinking approach focusses around four main areas of shopper marketing, digital solutions, activations and mall media. With long standing relationships with over 40 malls countrywide, reaching millions of shoppers annually, Primedia Malls has the power to connect your brand to the right audience at the right time.
With effect from 1 July 2022, Primedia Malls integrated into the Primedia Retail cluster of businesses.
The integration of this division under Primedia Retail further enhances Primedia Retail's ambition to be the leading media partner in South Africa that offers brands unbeatable opportunities to engage with shoppers.
A core focus of Primedia Malls will be continued investment into digital capabilities that not only offers impact, but also programmatic, dynamic and anamorphic content display capabilities. We will continue to work tirelessly to retain and attain the key media rights in the tactically suitable shopping malls across South Africa.
In addition, by leveraging the power of all Primedia assets, show-stopping events that drive shopper engagement will be amplified in shopping malls nationally.
With an engaged, motivated and highly skilled team, we are extremely optimistic that Primedia Malls will provide brands with innovative and creative solutions that will exceed campaign objectives and ensure that the last mile is fully covered.
---
Issued by Primedia Malls
For further information, please contact Jorja Wilkins
011 475 1419
---