The Media Online's weekly column delivering news of award wins, entries, competitions, dates to note and winners in the media.
Joe Public ranked number one at the 2023 Pendoring Awards for the third consecutive year.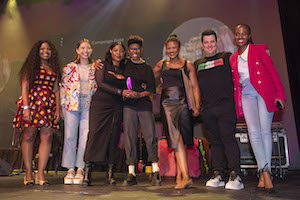 Growth agency, Joe Public, is celebrating winning 45 awards at this year's Pendoring Awards. The agency was recognised as agency of the year for the third consecutive year and was honoured to receive the Prestigious Umpetha Award.
The Pendoring Awards celebrate and recognise excellence in advertising and marketing created in one or more of South Africa's indigenous languages.
Co-managing director of Joe Public, Mpume Ngobese, said creatives should always keep in mind that South Africa is a diverse country and a multicultural society – therefore, brands and campaigns should appeal to them.
"Kusemqoka ukuba sikhiqize umsebenzi wobuciko oqondene neNingizimu Afrika. Futhi sikholwa wukuba indlela ephuma phambili yokufeza lokhu wukwakha umsebenzi wobuciko ongaqhelile kulokho okwaziwa ngabantu ngokwezilimi zabo. Kusithokozisa kakhulu ukwaziswa komsebenzi esiwenzela amaklayenti ethu," said Ngobese.
Translation: "It is imperative for us to produce creative work that speaks to South Africa. And we believe that the best way to achieve this is by crafting creative work that people understand in their own languages. We are delighted to see the work we do for our clients being recognised," comments Ngobese.
Joe Public is trots op die doelwit van groei – vir sy mense, kliënte en land, deur die mag van kreatiwiteit. Die werk wat by die Pendorings toekennings ontvang het, vertoon die uiteenlopende en boeiende werk wat deur Joe Public geproduseer word.
Translation: Joe Public prides itself on its purpose of growth – for its people, clients, and country, through the power of creativity. The work awarded at the Pendorings showcased the diverse and compelling work produced by Joe Public.
In conclusion, Ngobese said: "Singathanda ukuhalalisela bonke abadle umhlanganiso futhi sibonga abantu bakithi kanye namaklayenti ethu ngokuba yingxenye yalolu hambo lokukhula."
Translation: "We would like to congratulate all the other winners and thank our people and our clients for being part of this journey of growth."
SA Publication Forum 2023 Best publication and Editor of the Year winners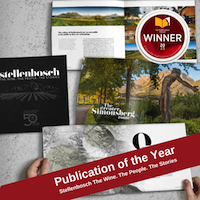 After two months of intense scrutiny by a group of publication experts tasked by the SA Publication Forum (SAPF), the best overall publication of South Africa for 2023 and the Editor of the Year was announced.
This year's top publication stands as a testament to narrative excellence, design ingenuity, and writing proficiency, published by Tip Africa Publishing: Stellenbosch: The wine. The people. The stories This beautifully illustrated coffee-table book showcases the influence of the Stellenbosch Wine Routes. It serves to inform and entertain readers while being a reference that users can return to again and again.
The 2023 Editor of the Year brings exceptional editorial flair and real gravitas to the content she creates using her skills as a master storyteller to craft purposeful content that makes a meaningful difference in the lives of readers.
Samantha Page, senior content officer at the agency Machine_ Sam, as she is fondly called by her colleagues, is a seasoned expert.  Her heart-led and deeply empathic approach to her work – combined with a sophisticated understanding of complex business dynamics – gives her enormous range, making it possible to edit several publications simultaneously, always attuned to the requisite nuance of each.
The SA Publication Forum (SAPF) hosts this publication competition annually and has done so for the past 21 years.
AGENCY SCOPE trophy: If you win it, flaunt it…
For the first time in South Africa, AGENCY SCOPE will be replacing certificates with trophies for the winners in six of its categories, having introduced trophies internationally six months ago.
The six trophies include three for creative agencies and three for media agencies, awarded for leading creative agency and leading media agency, judged by overall market perception; overall client satisfaction; and overall competitors' opinion.
Said SCOPEN president and CEO César Vacchiano, "We have always awarded certificates to winning agencies, whether they are subscribed to Agency Scope or not. Due to the excitement with which agencies received their certificates, SCOPEN decided to match their enthusiasm and award trophies."
Johanna McDowell, CEO of the Independent Agency Search & Selection Company (IAS) and SCOPEN partner, noted that the trophies are "indicative of the value that we ascribe to those particular category winners.
"AGENCY SCOPE is designed for agencies to benefit in terms of being able to make improvements in their offerings; to tackle tricky issues that may crop up. The trophies are accolade for these achievements, which can be proudly displayed in the workplace."
Recipients will get their bragging rights from 30 November and trophies  over the month of November as results are presented by Vacchiano.  According to McDowell. "To be judged by your clients and peers and come out shining is an achievement that further enhances your industry reputation. The value it brings is something to be immensely proud of," she concludes.
Flow Communications wins 10 Gold Assegais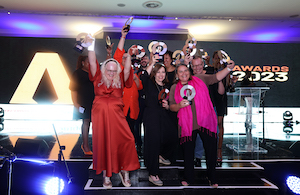 Flow Communications walked away with 10 golds at the 2023 Assegai Awards, including five for its AI application, Trigger Message, cementing the agency's reputation for digital innovation in marketing.
Said Flow's CEO, Tara Turkington, "It's an honour to sit in a room alongside the best marketers in the country, and be able to represent our clients in such a spectacular way. We are thrilled with our Assegai Awards!
"We have had an extremely good awards year, taking home trophies from the PRISM awards for public relations, the New Generation Awards for digital marketing  and now the Assegais for marketing. Our integrated approach and the fact that we are able to choose the best solution for our clients' businesses and communication challenges, without being wedded to a channel or a speciality, means we are able to claim multi-disciplinary excellence."
"Congratulations to all of the Assegai Awards winners," says Tiffany Turkington-Palmer, the agency's managing director. "To our innovative team, thank you; a massive shout-out goes to you, too. And without our amazing clients, we wouldn't be able to do the work we do. These 20 awards showcase our combined dedication, creativity and passion."
Flow received the following accolades:
Marine Protected Areas (MPA) Day 2022: Gold Award in the Campaign for Under R500 000 category
CarSpa AI Loyalty Campaign: Gold Award in the Emerging Technologies category
CarSpa AI Loyalty Campaign: Gold Award in the Mobile category
CarSpa AI Loyalty Campaign: Gold Award in the CRM/Customer Loyalty Campaign category
CarSpa AI Loyalty Campaign: Gold Award in the Technology & Communication category
CarSpa AI Loyalty Campaign: Gold Award in the Automotive category
Launch of the Karoo Desert National Botanical Garden's Braille Trail for the South African National Biodiversity Institute: Gold Award in the Travel, Hospitality & Transportation category
Daily Maverick's The Gathering 2022: Gold Award in the Experiential category
Daily Maverick's The Gathering 2022: Gold Award in the Publishing, Entertainment, Media & Sports category
Marine Protected Areas (MPA) Day 2022: Gold in the Social Media category
Marine Protected Areas (MPA) Day 2022: Silver Award in the Not-for-Profit category
Launch of Air Côte d'Ivoire's Johannesburg-Abidjan route: Bronze Award in the Travel, Hospitality & Transportation category
Launch of Air Côte d'Ivoire's Johannesburg-Abidjan route: Bronze Award in the Integrated Campaign category
The 20th Nelson Mandela Annual Lecture: Bronze Award in the Social Media category
The 20th Nelson Mandela Annual Lecture: Bronze Award in the Campaign for Under R500 000 category
The 20th Nelson Mandela Annual Lecture: Bronze Award in the Not-for-Profit category
ForAfrika's Cyclone Freddy campaign, Mozambique: Bronze Award in the Not-for-Profit category
ForAfrika's Cyclone Freddy campaign, Mozambique: Bronze Award in the Campaign for Under R500 000 category
Launch of Air Côte d'Ivoire's Johannesburg-Abidjan route: Leader Award in the Customer Acquisition Campaign category
South African National Aids Council's call for public comment on the draft National Strategic Plan for HIV, TB and STIs (2023-2028): Leader Award in the Health, Wellness & Pharmaceutical category
Assegais announces VW as Marketer of Year & Ogilvy as the Most Effective Agency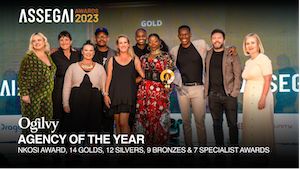 The 2023 Assegai Awards was a remarkable triumph for Ogilvy's clients, underscoring the agency's ongoing commitment to drive brand effectiveness and to deliver business impact across their client's brands. The awards are one of South Africa's leading communication effectiveness competitions, celebrating various areas of specialist marketing performance.
Bridget Harpur, head of marketing for Volkswagen South Africa, received the highest individual recognition of the night, as the 2023 Marketer of the Year. While Ogilvy was awarded the overall Best Performing Agency – with a staggering 42 wins, including 14 Golds, 12 Silvers, 9 Bronzes and 7 Specialist awards.
"I am truly honoured to receive this award. This achievement is a testament to the power of collaboration and the incredible team at Ogilvy who worked tirelessly to bring our ideas to life, achieving impactful results," said Harpur, "In a rapidly changing world, our commitment to pushing boundaries and embracing technology is what truly inspires us to connect with our audiences. This award celebrates our collective vision and hard work."
More Awards for HOT 102.7FM in Month to Remember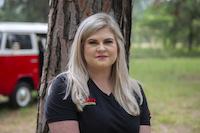 The celebrations continues at HOT 102.7FM, as the Johannesburg-based commercial radio station has capped a memorable few weeks – both on and off air – with more awards and honours.
For starters, HOT 102.7FM has been shortlisted and ranked in the top 10 of three categories at the National Small Business Chamber Awards, which will take place in Johannesburg on the 16 November.
The categories in question are '2023 National Small Business Champion' and the 'Special Awards' category, while HOT 102.7FM founder and managing director, Lloyd Madurai, has been honoured in the 'National Entrepreneur Champion' category.
"This is just the icing on the cake for us, particularly because HOT 102.7FM prides itself on being a champion of small business in South Africa," said Madurai. "So, these awards mean a lot, but they also mean that what we set out to achieve just over two years ago when we launched, is on track, and we've made a significant impact in a short space of time, whilst thriving in some of the most difficult times to be a small business in South Africa."
Adding to the sense of celebration was the news that HOT 102.7FM's head of news, Tara Penny, had been honoured at the Brave Journalism & Media Awards, alongside Hot Cares board member and investigative journalist, Devi Sankaree Govender.
The awards celebrate journalists and media personalities from across the country and honour them for their bravery to take risks, investigate and ask the really tough questions.
All of this follows HOT 102.7FM being named 'Best Local Radio Station' at the Best of Joburg Readers' Choice Awards recently, along with the HOT 1027 Breakfast winning the 'Best Radio Show' category. The station also closed October by blowing past its target and raising a whopping R19.4 million in just 12 and a half hours at its annual Teddython charity fundraiser.
Announcing Judges For SA Top 5 Startups Awards
Heavy Chef has been celebrating startups since 2017, launching first awards ceremony in December that year and asking, "How do entrepreneurs celebrate success?"
The overall answer was, "We don't. We're too busy hustling to be celebrating!"
In response, Heavy Chef decided to create a ceremony that was both kick-ass and that didn't take itself too seriously. "We wanted to celebrate South African startups and shine a light on the amazing work being conducted in the small business sector."
Now, it's only a few weeks away until Heavy Chef reveals 2023's crop of winners. We are currently collating all the entries and have extended the deadline to Friday 5pm.
There is still time to enter your favourite startups into the running.
Judging begins this weekend, and we'll announce a shortlist of 12 startups early next week.
This year, we have a stellar panel of judges who will be overseeing the entries. Here is 2023's lineup:
Andile Khumalo, KhumaloCo.
Cursurn Jantjies, Xero.
Keitumetse Lekaba, I Am An ENTREPRENEUR.
Hope Dithlikanyane, We Fund Women.
Melissa Attree, xneelo.
Tshepo Kgapane, WaFunda.
Zola Thekiso, Heavy Chef.
Zinhle Novazi, Heavy Chef (Judge Chairperson).
Each of these judges have a passion and zeal for serving entrepreneurs. They'll be chewing over a mammoth list of nominations. Keep your eyes on your inbox. Next week will be a biggie.
Then, if you haven't yet, book your ticket for the glittering evening on 30 November in Cape Town. We're dressing up this year, so dust off those suit jackets and fine dresses.
#SBTopWomenAwards: Celebrating 'My Africa' and Honouring Excellence
The 20th anniversary of the Standard Bank Top Women Awards, held on Tuesday, 7 November 2023, at the prestigious Sandton Convention Centre, was a celebration of 'My Africa' – a tribute to the strength, diversity, and achievements of women across the continent.
The event, hosted by Master of Ceremonies Carol Tshabalala, brought together distinguished guests, thought leaders and change-makers to recognise and honour outstanding contributions to the empowerment of women.
Standard Bank and Topco Media have worked together since 2011 to bring to life this powerful platform for diverse women leaders in South Africa offering masterclasses, networking, and a space to address important issues. The EmpowerHER series has grown into a movement for positive change, embraced by women in South Africa and across Africa.
"I would like to express my deepest gratitude to our dedicated judges for their tireless commitment and the extra effort they put in to ensure the best results tonight," said Ralf Fletcher, CEO, Topco Media & Communications.
All the winners are here.
Nedbank recognised as the Best SME Bank in South Africa for the second consecutive year
 Nedbank has once again been named the Best SME Bank in South Africa at by The Asian Banker Global Middle East and Africa Awards. This marks the second consecutive year that the bank has received this prestigious accolade, affirming its unwavering commitment to excellence in serving and supporting South Africa's small and medium enterprises (SMEs).
The Asian Banker Global Awards is one of the most distinguished annual recognition events in the global financial services industry. These awards cover the 4 primary categories of excellence in retail financial services, technology innovation, risk management, and transaction finance. Nedbank's recognition as best SME in South Africa falls under the category 'Excellence in Retail Financial Services'.
Nedbank also won gold in the Qorus Reinvention Awards for the SME Banking Award category, underpinning the bank's excellence in SME banking.
---