The Media Online's weekly round up of people, account and business moves in media.
This week's BIG move: IRT Media retains media rights to MyCiTi network for 11th year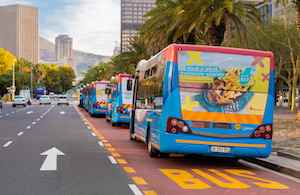 IRT (Integrated Rapid Transport) Media, part of the Provantage group, has been awarded the exclusive advertising and media rights for the City of Cape Town's highly successful MyCiTi Bus Rapid Transit (BRT) service for the 11th consecutive year.
Launched in 2010 and expanded in 2018, the ever-growing MyCiTi Bus service was recently allocated R5.2-billion for an expansion project – Phase 2A. Phase 2A, planned to roll out over the next three years, is the largest ever public transport infrastructure project in the Western Cape, and MyCiTi is the primary focus of Cape Town's new public transport plan.
Once Phase 2A is complete, MyCiTi will service Mitchell's Plain, Lentegeur, Khayelitsha, Nolungile, Gugulethu, Crossroads, Manenberg, Hanover Park, Philippi, Nyanga, Ottery, Strandfontein, Claremont, Wynberg, Constantia and Hout Bay. The buses will cover nine main routes, 12 direct routes (also called feeder routes) and service over 350 stations and stops along the way.
For over a decade, working alongside MyCiTi and the City of Cape Town, Provantage and IRT Media have in turn, continuously expanded their service offering to advertisers seeking to engage and communicate with targeted audiences within the city.
 People moves
Jimmy Moyaha takes the helm as host of SAfm Market Update with Moneyweb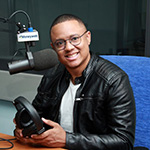 Moneyweb has introduced Jimmy Moyaha as the new host of the popular SAfm Market Update with Moneyweb. He takes over the reins from Fifi Peters, who skilfully hosted the show for over two years.
Moyaha is a renowned financial analyst and markets commentator widely recognised for his expertise on various local and international media platforms. With an extensive background in the financial industry, he brings a wealth of experience and insight to the SAfm Market Update studio.
In addition to his broadcasting career, Moyaha founded Lotus Academy, an online education platform specialising in financial trading courses and skills development. He holds an accounting degree from the University of the Witwatersrand. He has been active in the financial market industry since 2016, including a role as a derivatives trader at IG Markets.
Moneyweb's editor, Ryk van Niekerk, said Moyaha's experience as an analyst and entrepreneur will be invaluable, and paired with his enthusiasm, the show will be one not to be missed.
Moyaha expressed his enthusiasm for his new role, stating, "I look forward to sharing my insights and experiences alongside those of the captains of the industry I will be conversing with on the show."
 Bisquit & Dubouché celebrate legacy with Kwesta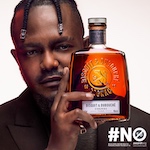 Recognised for its signature distilling process, Bisquit & Dubouché continues to inspire legacy through boldness alongside newly announced global ambassador, Kwesta.
Boasting over a decade in music, Kwesta has gifted audiences across the world with hit songs Ngud', Mayibabo, Ngiyazifela Ngawe and more. Carving his own way over the years, the rapper holds multiple accolades including six South African Music Awards, four South African Hip Hop Awards, one MTV Africa Music Award, and one Metro FM Award – earning him the title Da King of African Rap (DaKAR).
Similar to the historically bold collaboration between Frenchmen – Alexandre Bisquit and Adrien Dubouché; Kwesta showcases and narrates how he has remained distinct and progressive in his long-lasting music career.
In quintessential style, Kwesta toasts to 200 years of Bisquit & Dubouché and his successful 16 years in music with this global campaign – illustrating a parallel between the cognac and the musician.
Look out for Bisquit & Dubouché's new television commercial featuring Kwesta and more exciting announcements as they share #AStoryToSip.
Business moves
Bloomberg launches new TV programming for Africa
Bloomberg Television is launching new programming for Africa to complement its existing coverage in the region, including the new monthly flagship TV programme, Africa Amplified, and an expansion of its flagship daily morning show, Daybreak Middle East and Africa.
On Bloomberg Television, the morning show Daybreak Middle East & Africa will now extend to two hours a day, with the second hour co-anchored by Jennifer Zabasajja from Bloomberg's new studio in Johannesburg, which was formally opened on November 2.  The show delivers the market news, data, and analysis that business leaders and viewers across the region need to start their day.
Africa Amplified is a new monthly show on Bloomberg Television that takes an in-depth look at the biggest stories from across the continent. Focusing on the rapidly evolving business, science and technology landscape, Africa Amplified will look at the major developments and hear from the key people behind these stories.
Bloomberg.com/Africa continues to be a leading digital destination for news powered by its news hubs in Sub-Saharan Africa in Abuja, Accra, Cape Town, Johannesburg, Lagos, and Nairobi and its global network of more than 2 700 journalists and analysts.
Bloomberg Television will also expand its coverage in Africa this year, adding live reporting from Johannesburg, Kigali, and Lagos to enhance its breaking-news operations and analysis from the region.
BMT provides turnkey solution to assist emerging DOOH businesses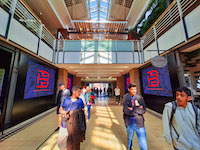 Billboard Management Technologies (BMT), a new digital out of home (DOOH) company headed up by an experienced team and an inventory footprint of over 250 screens nationwide – including iconic locations such as the V&A Waterfront and Cape Town International Airport – will offer a turnkey solution to support and nurture emerging DOOH businesses by addressing their financial challenges.
From the design of an OOH billboard structure to its development, manufacture and installation, Troy Niddrie, general manager at BMT said it aims to take much of the pain away from smaller and start-up media companies so that they can focus on their clients and on growing their businesses.
"Traditionally dominated by big media owners with ample resources and large networks, we're now starting to see new entrants into the local OOH category, which is a fantastic thing for the industry.
"With this shift, there is also an opportunity for experienced players to partner with these businesses, offering the necessary support, expertise and resources – at affordable rates – that will allow these smaller or start-up media businesses to scale."
BMT also handles the supply and installation of screens, configuration and set-up, content management, as well as SLA, programmatic and maintenance services.
Mandisi Maqetuka, chief director at Mandisi Ads, says that thanks to BMT, he was able to get his OOH business live in record time: "After winning a digital screen, we approached BMT to see how their solutions might best support our business model. They had us live within a month, and had our programmatic ads flighting by the following month."
Betway SA20 and Castle Lite to bring the lite side to Season 2 
Betway SA20 will be teaming up with Castle Lite to bring its unique flavour to the T20 cricket experience in an exclusive partnership for Season 2, which starts on 10 January 2024.
The new partnership will see Castle Lite continue to highlight the lite side of the experience, bringing its innovative and enjoyment-centred approach to the League.
The collaboration connects two vibrant entities who will come together to create unforgettable fan moments for South Africans across the six hosting venues.
As the official 'beer partner' of the league, the continent's favourite extra refreshing beer will have exclusive beer pouring rights at all 34 matches taking place around the country, marking an exciting venture into South Africa's premier T20 League.
Commenting on the partnership, Betway SA20 League Commissioner, Graeme Smith said:  "We are delighted to welcome Castle Lite as the official beer pouring partner of Betway SA20 for the next two years. Providing a world-class stadium experience for all fans and spectators is a key objective for us, this partnership will help us achieve that goal with the roll-out of engaging and consumer-focused activations this coming summer."
 Flow partners with ooba Home Loans to supercharge developer marketing efforts
Flow, an innovator in automated social media advertising solutions, is partnering with ooba Home Loans. This collaboration represents a game-changing opportunity for property developers, providing them with a unique advantage to expand their reach on social channels to a hyper-targeted audience.
Flow's advanced adtech platform creates automated, branded social media adverts that are not only automated but also intelligently placed for maximum impact. Its ability to deliver advertising to precise audience segments empowers developers to optimise their marketing efforts, ensuring every interaction counts and facilitates return on investment. In turn, this should reduce media spending waste.
Flow's latest partnership with ooba Home Loans allows property developers to reach more buyers than they have before. Developers can enhance their advertising efforts and automatically advertise their listings across Instagram and Facebook, reaching a high intent audience exactly where they spend their time.
Making moves
Creative Careers South Africa kicks off acceleration programme for artists
Creative Careers South Africa has officially launched the Creative Careers Acceleration Programme (CCAP), a dynamic new project tailored to foster the growth and development of young, aspiring creatives in South Africa.
Conceived by Stallone Santino (actor, director, and producer) the programme aims to kindle the fire of artistic passion within a diverse group of young South Africans through an immersive internship and mentorship experience.
Creative Careers SA reached out to potential candidates through an innovative application process, requesting a two-minute video introduction to capture the essence and aspirations of each applicant. With a focus on merit and an inclusive approach, the program underscores its commitment to empowering individuals from underrepresented communities.
Santino said: "The inception of the Creative Careers Acceleration Program marks a pivotal moment in nurturing the future luminaries of South African arts. Our mission is to equip participants with the quintessential skills, knowledge, and opportunities that will not only spur their individual careers but also leave an indelible mark on our national arts canvas."
Supported by Business and Arts South Africa (BASA) and the Department of Sport, Arts & Culture (DSAC) through the Presidential Employment Stimulus Programme, the CCAP is set to be a transformative journey for its participants. It promises a plethora of learning experiences, skill enhancement workshops, and a chance to absorb wisdom from seasoned mentors.
The program's mentorship initiative boasts a distinguished roster of professionals, including celebrated film and television Mayuri Naidu (Reyka), actress Lindiwe Lekasapa, an accomplished arts manager; choreographer Owen Lonzar; musical theatre artiste Schoeman Smit (The Producers), and visionary filmmaker Londiwe Shange (Ngikhona), among others.
An overwhelming response of over 450 applications was condensed to a select group of 25 candidates, ensuring a focused and personalised growth experience. These aspiring creatives will be placed in esteemed organisations nationwide, sowing the seeds for what promises to be a fertile period of artistic cultivation.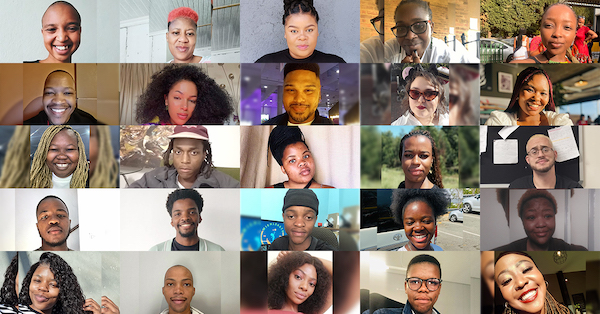 ---