Just look at it, open your window and look at it, the weather, acting like it didn't just try and kill us. Shining sweetly and stuff. Waves bigger than five metres here at the coast: the poor holidaymakers stayed indoors as the water poured down and over the threshold of our continent.
One billion to fix it, they say. "They" just gooi a number where they like it. A billion sounds good, let's go for that. #Floods of money for our washed away shores.
It's Friday, it's time to #ScratchTheSurface of the news and social media, the job I do, so you don't have to.
Did you have a good #HeritageDay or were your plans washed away? #TreadingWater
Okay, where to start. Just like those breaking waves, news flooded my desk but what it forgot is that I'm a friend of the deep water. I got this. Let's start with #LadyR, old #Brigety got jittery, hey? Him and his bowtie with that healthy American accent. The American Ambassador who told us there was a bomb threat in Sandton has certainly learnt how to move like a true South African, dodging media bullets like he's something out of the Matrix.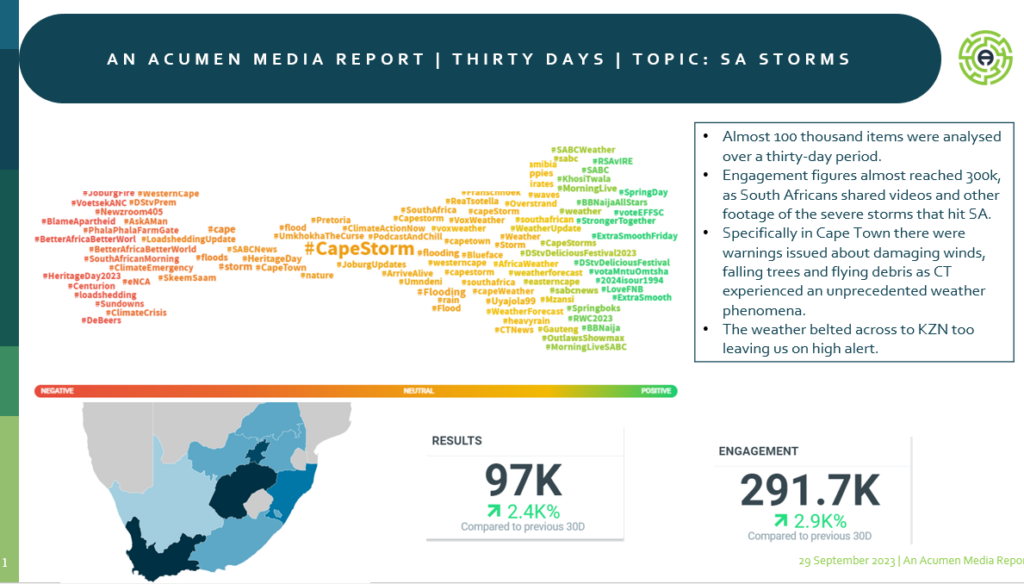 Cover up?
The #DA have been busy and #LadyR is one of its electioneering punts. Our Prez, you remember him, #Cupcake, well he appointed the judge to oversee this enquiry. Are you noticing a trend yet? The DA are with #LadyR. Listen, neither you or I really care what was on that ship and frankly to think we, who can't even fix a pothole, can ship over precision weapons to Mother Russia is not short of laughable, but stranger things have happened and we've covered them up or stuffed them in a couch.
I'll tell you who I did have a great deal of respect for, the tenacious and impactful Mama Winnie Mandela. I think I speak for most of the nation when I say that. She is the one who stayed behind and never surrendered. So why oh why are we naming literally the worst road in the world after her? #WilliamNicol is now #WinnieMandelaDrive. Speak to anyone in Jozi and they will tell you they'd rather stick a fork in their eye than cross or drive #WilliamNicol.
It is the segway to all the north of Johannesburg and there is always a set of lights not working. The only redeeming factor about #WilliamNicol is the hawkers are super fun to engage with. They'll literally give you a hat and a box of tissues for a smile, your particular car is always their favourite car and their broad smiles certainly tell you you're in Jozi. But Mama Winnie, guys? I thought they were going to name the N1 after her. You know the highway that stretches across the country, but no, we give her the snail pace, much hated William Nicol. Sorry Mama.
The crime war
Talking about icons and testament to our leadership, #AzizPahad and #ZolekaMandela died this week. Both legends in their own right, one a freedom fighter from childhood and the other a cancer warrior. It's fait de accompli, death, yet we are never ready. May their families find ease along this painful journey.
The #CrimeStats and other surveys were released this week. Did you know that 200 000 South Africans have been murdered in the past 10 years? Guess how many died during the entire war in Afghanistan, go on, guess, I'll wait: 70 000 –  almost three times more people died on our streets and we don't call this a war.
This is just another statistic in the seventh highest ranked corrupt and dangerous country in the world. Hey, at least we've made the top ten in something. I jest but that stat horrified me. #BhekiCele should be tried for war crimes.
And while we were treading water, we were thirsty and in dire need of water as Gauteng #WaterShortages filled social media and didn't really catch the mainstream news bias. Rumours of #DayZero for Gauteng filled our conversation and eventually some jobsworth said don't panic, we're absolutely fine, just keep buying the water on the shelves. SMH #Drowning in the one commodity we are in dire need of.
Marches, protests and racism
There have been a lot of marches, protests and racism, so just an ordinary week in South Africa, really. #NEHAWU took to the streets, the #EFF wouldn't let white kids into #Tuks university, there was a racism story at the #UFS and the #ANCYL marched on #Capitec.
As privatisation is the new buzz word on the streets, our "resilient" private sector saw Anglo leave South Africa and almost half a million chickens got slaughtered because of avian flu. The cash in transit heist on the M1 made a movie that even John and Robbie couldn't handle, with one fatality and two arrests, the perpetrators are locked up until they twist a #ThaboBester out of this.
There was a #HostageDrama that would make Liam Neeson look like he was #Taken. They managed to save all the members of the family but the crooks legged it at the Mozambique border. That border has some stories to tell.
Here are the stories that were swept under the rug, you know, the ones they hope we'll forget. Apparently, they found a person of interest in the AKA murder. A person of interest, did they only just watch the video? Oh, come on. We still don't know what killed our kids at #EnyobeniTavern, we never did get a simple toxicology report.
Can't herd a Shepherd?
In April 2021 a large section of #CharlotteMaxeke hospital burnt down, some said arson, I said insurrection. Regardless, that hospital has still not been repaired.
Can each one of us turn up with a trowel and a bag of cement? I mean seriously, that is a war crime. Here's another one you forgot about #ShephardBushiri, the fake pastor, the guy who gapped it with a private plane from #Waterkloof to avoid our courts. Well, guess what? They're apparently much closer to extraditing him. What? I'm sorry what? You flew a jet to pick up Thabo and Nandi, but you can't herd a shepherd. Please get out of my car.
Oh, and another one, remember Uncle Paul #Mashatile's VIP convoy who beat up some guys on the highway? Apparently, we are still waiting for cellphone records and statements. So, the cops didn't even take a statement. #DrownedOut
We're not muppets
I've got to speed up now as my words run dry. #Kunene said it was fine to call #Julius a cockroach. #Sodi, the guy who stuffed up our water by guzzling the money, is walking a tight line across what should be a bungee jump into the Vic Falls. #ChrisPappas, the new KwaZulu-Natal Premier for the DA, was accused of fraud in a company that is not even remotely related to him.
#Gordhan has tasked #Eskom to look for ballies as he gives a mandate to try anyone who has blown out more than 60 candles on a cake. He may get to eat it too. #Zuma was in court for abusing the system, when is Zuma not in court? Oh ja, when he has to be arrested. #Eskom says they're "capping" load shedding at #Stage4 for summer. This is not a cellphone contract, you idiots, don't treat us like the muppets who pay more for internet than anywhere else in the world. Oh wait, that is us.
Malema was in court for storming the stage in the President's Q&A. Surely that's treason? Ag you know what, stage antics aren't top of our agenda. Food, water and electricity are. Which is why it's no surprise that #Cupcake was galivanting in Lesotho. #TreadingWater
A story to cheer us up
Across the oceans it's just as bad but here's one story to cheer you up. No, I'm not talking about Musk's failed attempted at live streaming. I'm talking about #JoeieHenney, the guy who turned up to a baseball game with his "emotional support" animal, they wouldn't let him in, which is fair enough. Pets in a stadium don't make a lot of sense, but it was better than that; his pet Wally (apt name) is an alligator. I kid you not, friends.
Maybe those aliens in Mexico are real after all.
I'm Tonya Khoury, thank you for scratching the surface with me and Acumen Media.
---