What agencies need to know. That was loosely our thinking around this issue of The Media. Agencies need to know so much. It must be exhausting staying on top of media as it shifts and moves and changes in less time than it takes to produce a magazine.
So, what do agencies need to know?
Well, there is movement on the cannabis front. Despite President Cyril Ramaphosa hailing the plant and its many uses as a potential economic saviour for South Africa in two successive State of the Nation addresses, the legislation to make it so has been ever so slow.
But in mid-June, the Mail & Guardian reported that the 2021 cannabis master plan was back on track. What does this mean for the advertising and marketing sector? Cannabis advertising, like that of alcohol and tobacco, will come with restrictions.
Dentsu's Dawn Rowlands, Kirsty Bisett from HaveYouHeard and VMLY&R's Matthew van der Valk share their thoughts on what lies ahead, and the many opportunities legalisation will present.
Back on the media horizon is the move to digital terrestrial television. We all got excited about it in 2015 when the first International Telecommunications Union's deadline for DTT came and went.
But successive communications ministers and deadlines have passed … without South Africa managing to migrate. Yet not all broadcast industries welcome what digitalisation might bring. Cape Town TV's Mike Aldridge gives an insightful view of its impact not just on community stations, but free-to-air operators too from both an audience and adspend perspective.
As visual media becomes more prevalent – interestingly, photographer Phandulwazi Jikelo of the Cape Times won this year's Standard Bank Sikuvile Journalist of the Year Award – the quest to create truly viral video content grows increasingly important.
South Africa is lucky enough to be home to a master of the medium. Retroviral's Mike Sharman – think KreepyKrawly (MyKreepyTeacher), Nando's Last Dictator, Sixty60 Swindler – writes in this issue on how to create 'virality'.
And it's not at all easy.
There's so much more in this issue: from strategies on keeping advertising talent happy by VMLY&R's head of people operations, Sibonginkosi Zuma, to a fascinating look at why South Africans are obsessed with true crime stories on TV and podcasts – and what to expect when Google's cookie crumbles in 2024.
We hope this issue will resonate with agencies.
The Media. Got to love it.
Glenda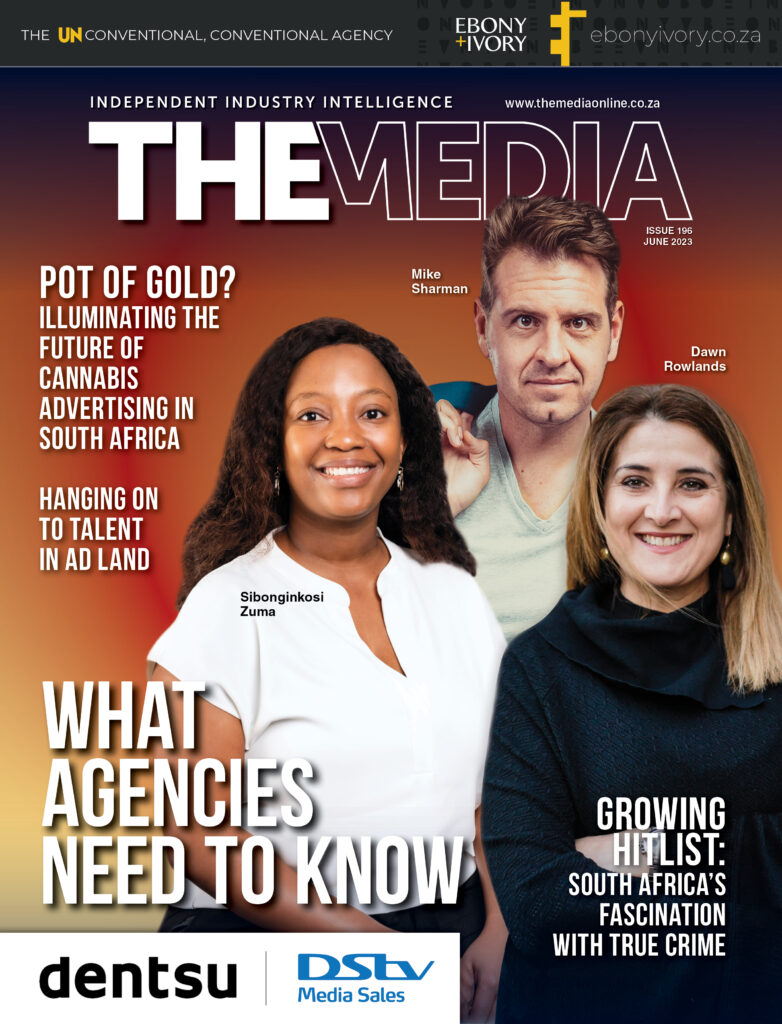 ---