As the idiot in question, allow me to preface a scan of the Namibian media industry with a short introduction and a few declarations.
Namibia is a destination market for many South African goods and services, and at first blush it may appear to be the same market. Indeed, it is sometime regarded as the 10th province due to a shared history, currency, languages and long established business networks.
It is, however, a very different media market to navigate.
A population of 2.6 million supports five daily newspapers, 32 radio stations, four TV channels, and the total inventory of six out of home operators. It's a busy place. And this is after the Covid-19 shakedown.
Rozanne van der Merwe, CEO of Ogilvy Namibia, offers the following post-Covid analysis: "What emerged strongest from the disruption was radio as a direct response medium and, combined with activation and social media support, this is currently our 'Golden Triangle'."
I am personally invested in radio and digital assets, so my world view is not entirely neutral. What is important to understand for South African marketers is that oil, gas, green hydrogen and solar energy investments pouring into Namibia indicate significant future expansion of the relatively small economy, with many predicting a golden decade ahead.
The time to build brands is now.
Television
The National Broadcasting Corporation (NBC) has been operating since independence in 1990, with two channels. As the main channel, NBC 1 broadcasts a mixture of news, sport, lifestyle, domestic and international drama. NBC 2 mostly broadcasts external news, and has little to no targeted programming
Both are available on DStv and DSTVGo. The NBC, hampered by budget cuts, falling revenues and increased competition from outside parties, has expanded its television offerings of late. Small programming budgets have been able to keep up with an increasingly crippling exchange rate for foreign programming.
This has in turn led to declining audiences for the state-owned channel: Media Metrics 2022 reports a 52% decline in audiences on their DTT platform.
One Africa TV (OATV) has taken advantage of the relatively pedestrian pace of adaption of state-run television and, in contrast, offers a wide range of programming reflecting a younger and more modern slant on local TV, where consumer preferences outweigh government communication priorities.
OATV turns 20 this year and has wide offering for Namibian audiences – local drama and daily news bulletins share the platform with live sports and current affairs programming. OATV also broadcasts an educational series called Learn on One, aimed at supporting foundation phase children for whom "online" is still a pipe dream.
OATV has a reach around 12% of total population and has shown an impressive 40% increase in weekly audiences, according to Media Metrics 2022.
"Key for us is to really understand the shift to a desire for strong local content like news and sport, and maintain editorial and broadcast quality aspects such as HDTV," explains Stefan Hugo, CEO of OATV and 99FM.
Namibia Media Holdings, owner of three daily newspaper titles, recently launched a channel on DStv called NTV with a focus on local news and school sport. Hennie Geldenhuys, CMO of NMH notes that a big learning was the shift from "prime time" to "my time", and that providing audiences archived materials has been key to building audience engagement. This interesting play from traditional print to broadcast is new, and worth following.
DStvGo has brought TV into more homes over the past four years, with 90% of decoders utilised coming from MultiChoice. This means local TV operators have to compete with international offerings, and that has proved challenging.
Streaming services, while on the rise, are still constrained to the top income brackets due to slow fibre rollouts in the main centres.
 Radio
Radio remains the reach medium for Namibians, with 91% tuning in, and in excess of 50% of the population listening between 6am and 7am EVERY day. Radio is also the main source of news for Namibians, which is also reported as their main reason for listening. Most importantly, Namibians report that radio is the medium that most influences their decisions.

There are 21 licensed commercial broadcasters, and 11 state-owned channels, servicing a linguistically and culturally diverse population. The two main radio operators are the NBC and Future Media.
The NBC performs a vital role as a primary source of news and current affairs for especially rural Namibians. It operates 11 language/culture-based channels, some national and some regional.
The largest, Khati FM, is also the largest radio station in the country, reaching nearly 41% of the largely rural Oshiwambo-speaking population. The Nama Damara and Otjiherrero services are smaller, but no less influential in their communities.
National FM is a heritage station that still carries a mix of talk and news across and impressive footprint in English, countrywide.
The NBC has in recent years been mired in labour disputes and financial struggles, but it is still an important part of most Namibians lives: 47% of Namibians do not have internet access (Datareportal: Namibia 2023).
If the NBC owns the provinces, then Future Media is the undisputed radio leader in urban Namibia. A portfolio of four national commercial radio formats and a highly respected network news brand provides a modern commercial platform that reaches around 205 more urban listeners than the NBC (Safland, 2019).
Radiowave, Omulunga and Fresh FM are all more than 18 years old, and service a high LSM audience between 18-45 years old. Omulunga is the largest commercial radio station in the country, and Radiowave is the dominant Adult Contemporary brand. A recent Geopoll survey showed the FM network boasting a higher cumulative audience reach than the NBC in the LSM 5-10 segment, around 90% (albeit with audience overlap).
NOVA 103.5, a soft AC format station with 18 transmitters nationally, was launched in 2020 during lockdown and is rated in the top seven stations nationally by the same GeoPoll survey. It also hosts Namibia's most trusted business show, The Business Report, and specialist agri content, besides BBC sport and actuality.
Among the single channel stations, 99FM boasts the largest audience with a brand that has been around since the '90s. Kosmos 94.1 has recently shifted format to more bilingual (traditionally Afrikaans) and more adult contemporary sound, and still has a loyal and engaged audience, especially at the Coast (Media Metrics, 2019).
Kanaal 7, a Christian radio station also still commands a loyal listening, especially in more agricultural regions where their superior transmitter network is in some cases superior to NBC coverage.
There have also been some notable new entrants. Shipi FM launched prior to the lockdowns and immediately found a large audience in the North of Namibia, where their commitment to local music and cultural issues in the Oshiwambo vernacular appealed to a 16-24 audience who often feel disenfranchised.
Eagle FM is a talk-based format that delves into the political arena, not traditionally where private commercial stations find success. They have developed a reputation for stimulating more critical voices, and a more balanced view of current affairs.
Energy 100FM is a heritage radio station that reaches a wide section of the youth market with an impressive range of musical styles.
The Namibian-launched Desert FM has struggled to make any real impact in converting its newspaper style to radio. Other recent new broadcasters include FocusFM and Urban Café in Windhoek.
Newspapers
As elsewhere, the once thriving newspaper industry has seen dramatic reductions in readership and circulation. Many daily and weekly newspapers have converted to digital-only publication. These include The Economist, Windhoek Observer, The Villager and the Trustco-owned Informante.
The Namibian, established in 1986, is still the dominant brand and remains the most widely read newpaper. It features news in both English and Oshiwambo, and continues its proud heritage of holding those in power to account through investigative reporting and analysis. It also manages a busy website with an impressive archive.
The newspaper is attempting to tackle the challenges of a changing media world with the launch of Desert FM and a renewed focus on news delivery online.
Namibia Media Holdings operates three daily papers: Die Republikein (Afrikaans), Daily Sun (English) and Allgemeine Zeitung (German).
Hennie Geldenhuys from NMH is at pains to point out the delicate balance the group maintains with rising input costs (paper and distribution), declining circulation and maintaining journalistic standards.
It is clear pamphlet inserts remain the last defence of daily print for both these commercial newspaper operators. NMH's venture into TV has had mixed results, but a focus on school sports and community events seems to showing some promise.
New Era is a state-owned publication, and as such is slightly more insulated against the digital realities facing publishers. But this too is changing, with increased sensitivity from government towards rising costs and an increasingly junior newsroom occasionally angering the political funders.
It doesn't take an in-depth analysis of the print sector to anticipate further title closures, or digital conversions.
Magazines
Venture Media produces a quality range of travel and tourism titles such as Travel News Namibia, Namibia Trade Network and a wonderful inflight mag for FlyNamibia.
Out of home media
The lack of effective town planning in both Windhoek and the North of the country has created an interesting dilemma for OOH, especially digital out of home. On one hand, clogged arterials are good for eyeballs on large static structures. On the other hand, a paucity of new routes means there is very little expansion opportunity for new sites.
The sector is active, though. Alliance Media has airport inventory, traditional static sites and has begun to invest in large DOOH. JCDecaux is also well represented, and has some niche digital opportunities.
Primedia Outdoor is the frontrunner in DOOH, with 754 static panels and six large (4mx8m) LED sites around the country, all along major routes. This has allowed a number of new advertisers into the segment, but a lack of traffic statistics and other useful data still hampers uptake.
Media Solutions offers a high frequency option with lamp-pole and street clock advertising throughout the country.
Increasing production costs and low traffic levels (relative to other African markets) mean that OOH is increasingly out of reach of local advertisers.
There are also quite a few local operators, and the range and spread of building sides, walls and municipal structures is impressive. In the North, painted taverns, shops and roadside markers also provide interesting options for the brands willing to do the legwork.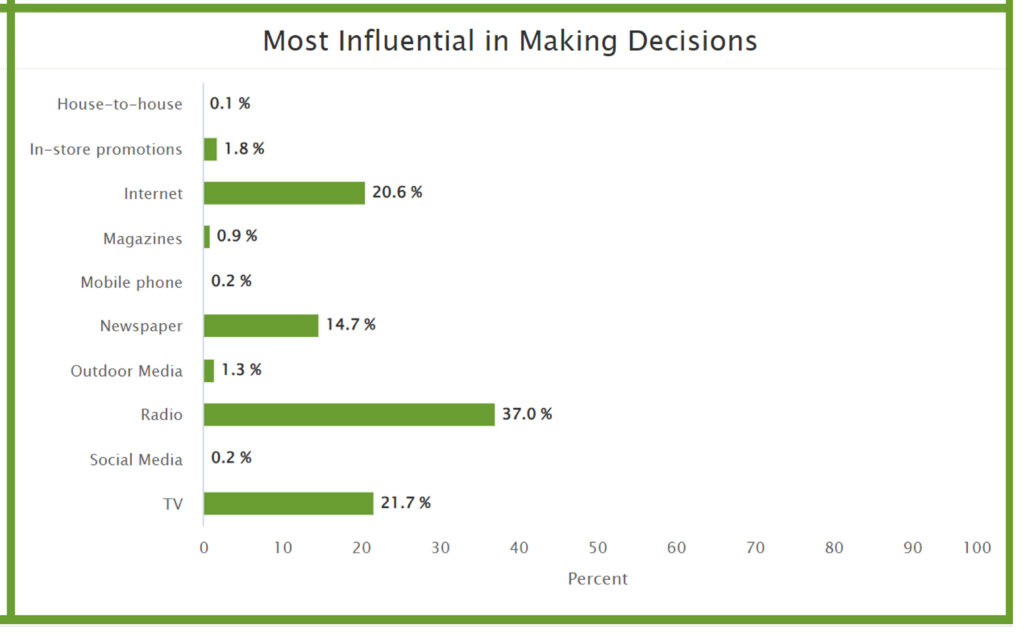 Digital media
Apart from the ex-newspapers, there are a few news sites that offer unique content. The Brief manages to produce some decent quality business reporting; Whatsonnamibia.com is a reliable community space for events and lifestyle.
Generally, the newspaper and radio station websites are the most trafficked national publishing sites, and most media companies can offer multi-media (audio, video, activation and social media) elements to campaigns on request.
Facebook is the leading social media platform, and Datareportal (Namibia Digital 2023) reports that Facebook ads have a 22% potential population reach, and Facebook usage declined 13.3% from 2022. Pinterest showed a 50% increase in traffic, but still only has 17.6% reach.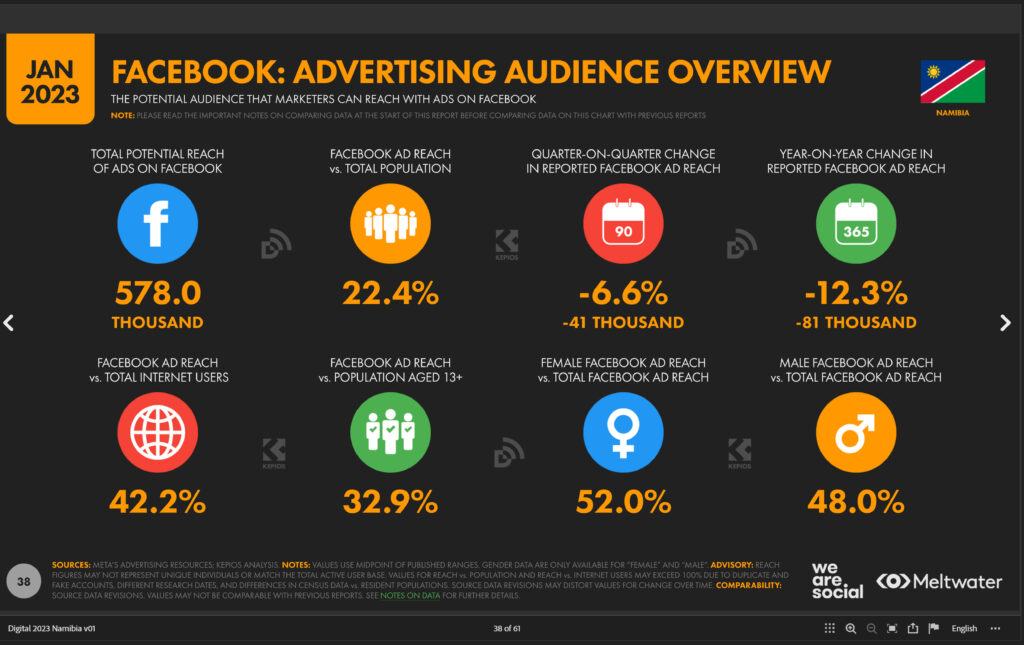 Most tellingly, social media use is only used by 28.2 of the population.
The impact of Covid-19 is telling, with a significant restructuring of the retail economy as well as the media sector. Companies that have been able to aggregate audiences and channels offer the simplest and most effective route to the Namibian consumer and decision maker.
Expect further contraction as those with market power invest in providing new platforms and opportunities to advertisers.
Key takeaways
Radio is the trump media in Namibia with NBC and Future Media the dominant players
Newspapers struggling with rising distribution and printing costs, radio's news evolution and digital conversion.
TV remains an opportunity for canny advertisers looking for effective brand placement.
Digital is not the 'cure-all' it may be in other African countries, especially social media.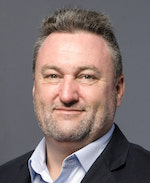 Gary Stroebel is CEO of Namibia Future Media Holdings. He worked at OFM and Central Media for 23 years, and now works at Future Media in Windhoek. He also presents Namibia's leading weekly business podcast and radio show, The Business Report.
---