Strategy, once regarded as a 'nice to have', is today an integral and very necessary tool in the brand custodian's toolbox. From a humble beginning as 'planning', it has evolved to include a variety of different disciplines for strategists including brand, digital, communications and creative, to name a few.
This evolution has been guided and shaped by extensive debate to define what strategy actually 'does' and – more controversially – what is its value. Adding fuel to the fire is that the different disciplines, developed to address more specific unique needs, each come with different skillsets and deliver unique outputs.
While diversification is a net positive for strategy, the lack of universal understanding across the industry has made the word 'insights' an ambiguous catch-all, especially when it comes to its application as a creative input and where it evokes indifference more frequently than inspiration.
While strategy's value – to both agencies and clients – continues to grow, the resultant role diversification has resulted in it becoming more challenging to understand who does exactly what and how.
Against this backdrop of ambiguity, what is the universal value of strategy, today in 2023?
Focus is greater than inspiration
As an input into the creative process, strategy can be said to provide precious little 'creative inspiration'. What it does assist with when it comes to the creative process is focus.
Knowing what to say 'no' to so that we can say 'yes' to the things that actually matter is a big win – for example, the right territories in cultural.
The best channels across the spectrum. Clearer messaging. Defining the real challenge or problem. The most human and profound of insights. Strategy should be about assisting creative know where to focus, not act as their inspiration.
Subject-matter specialists
Brand strategists. Digital strategists. Communications strategists. And on the list goes. Both clients and creatives look to strategists to address very specific problems with specific solutions under their respective disciplines.
While many strategists see themselves as the 'Swiss Army knives' of talent in agencies straddling different functions, true value is created when clear expectations are met with clear outputs.
At its best, strategy simplifies the complex, and strategists provide specific solutions to specific problems. Even the more generalist of strategists manage expectations around where they can or can't add value.
Truly profound (and useful) insights
If the essence of strategy is around problem solving, then insights serve at the core of most solutions. At time when brands are doing more on a larger scale, having a very unique point-of-view becomes essential in order to stand out.
Truly profound insights inform truly iconic and meaningful work, but they are exceptionally illusive and challenging to create especially at a time when data has become both very accessible and abundant.
 By and large, it feels like there has never been a greater time to be a strategist. Brands face challenging environments across the communications landscape, and with consumers more connected than ever before they are swift in voicing their opinions – and most certainly when those opinions are negative.
Strategy serves as the conduit between the insights of consumers and culture-at-large; the commercial ambitions of clients; and the creative solutions to realise these ambitions.
Strategists play the role of connecting insights to business problems and advising the approach in how to realise these in creative solutions.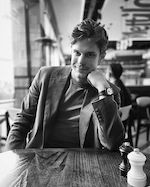 Jordan Major is strategy lead for culture and innovation at RAPT Creative. He believes in the power of collaborating with culture to connect brands to their customers. In his role at RAPT Creative he works alongside the creative studio to ensure all work is informed by insights and data to ensure that the work is executed holistically in unique territories and across the relevant channels. His Twitter handle is //twitter.com/JordanMajor.
---