June is that time of the year when brands and their agencies embark on a month-long activation celebrating the LGBTQQIAAP+ community and the observance of International Pride Month.
The colourful flag that represents the community becomes a symbol embraced and intertwined with company logos, storefront changes and all the bells and whistles that come with Pride Month.
While this is a welcome endeavour and a sign of allyship, there are nevertheless many real issues that require us to stand in solidarity with the community … regardless of the month of the year.
Perhaps the recent Ugandan president's signing into law the anti-gay bill that in many ways criminalises, penalises and vilifies the queer community should compel us to think differently about how we, as brands, authentically support the LGBTQQIAAP+ community.
Brands and agencies
What more can brands and their agencies do to meaningfully and purposefully effect change?
I recently hosted a gender sensitisation session in our agency and I started with a simple question: "Can anyone tell me what the LGBTQQIAAP+ acronym stands for?"
The room was abuzz with many attempts to unpack the possibilities of what these gender constructs are, and ultimately revealed that gender is fluid and ever-evolving. (Answer: Lesbian, Gay, Bisexual, Transgender, Queer, Questioning, Intersex, Asexual, Allies and Pansexual)
This was incredibly important to call out because, as advertisers, we play a valuable role when it comes to shaping and moulding the acceptable cultural tropes and practices that are essential to the moral fibre of society.
A question of pinkwashing
Moreover, when we as an industry do not fully accept this fact but proceed to integrate it as part of our planning and creative executions without fully understanding its depth, we are accomplices of pinkwashing and appropriating the LGBTQQIAAP+ community, both of which could result in backlash.
'Pinkwashing' is a critical term used to refer to the practice of attempting to benefit from purported support for LGBTQQIAAP+ community rights. It is used as a way to profit or to distract from a separate agenda. Essentially, pinkwashing is often a way to profit or create goodwill for a brand that does not genuinely benefit the cause.
If you or the brand you work on is considering creating a Pride Month campaign this June or even during the South African Pride Month celebrations in October, there are a few questions you should consider. This is a way of ensuring authentic participation and that the community truly benefits from your adopted causes.
Are we doing enough to deconstruct our social constructions of gender?
In other words, how far are we willing to challenge the ways in which our framing of gender and sexuality has been taught to us and accept the various identities that exist and have a direct influence on the work we produce?
In our planning and creative executions for brand advertisement are we being fairly representative?
This can be through team members and consultants who identify as part of the community and can, to a great degree, speak on issues the community experiences from their own lived experiences.
What is inhibiting us from being fully representative and how can we challenge the status quo?
Sometimes these are systemic issues that must be championed within brand and agency environments by all and not just by those who are deemed to be affected. The issue of human rights is one that affects us all.
What LGBTQQIAAP+ community programmes and causes can we embark on?
This is one way of ensuring that our support for the LGBTQQIAAP+ community is not just a month-long activity but one that is part of our culture and diversity pillars. Consider, as example, Davos 2023 which convened with various interest groups and business leaders advocating for its more robust championship of the community.
As we reflect on this key subject, it must not be lost upon us that, as country, many strides have been made to improve the lived experiences of the LGBTQQIAAP+ community. These far exceed those human rights milestones made by other countries in Africa. Many on the continent still face incredibly difficult circumstances regarding gender and sexuality.
As brand advertising practitioners, however, it is our responsibility to create brand communications that are reflective of all. We must forcefully advocate for the equal recognition of all human rights across the diaspora – a challenge, yes, a necessary influencer for social justice and change to be achieved.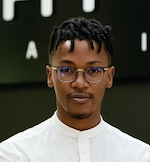 From MA candidate to graduate. With qualifications in journalism and now his Master's in Creative Brand Leadership, Khangelani Dziba has worked for notable consultancies and agencies including Fleishmanhillard, DNA Brand Architects and Group Africa Marketing. He is based at RAPT Creative's Johannesburg headquarters but will work closely with all business units across Cape Town, Johannesburg, UK and Ukraine.
---